From the Students: Academics at VU
Whether you're coming to the end of your college decision process or just starting, it is often easy to get caught up in the beautiful housing, eye-opening extracurriculars, and bustling city life surrounding a school's campus.  While these will all be important parts of your college experience, more often than not the decision boils down to the very reason you set off on this journey to start with: to get a world class education.
With this in mind, we want to give you a little bit of insight into what life as a Vanderbilt student is really all about.  Today's question: What is the most significant academic experience you have had at VU?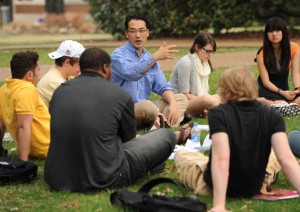 "I got involved in a research lab this past semester doing neuroscience research. My lab's focus is autism, and in particular, how children and adults with autism interpret sounds and sights. We conduct a lot of psychophysics experiments as well as other neurological tests, and I have been playing a large role in designing some of these experiments. The coolest thing though, was that the week I joined the lab, I started Googling various things about autism. As soon as I searched "autism," the very first link was to a news article on CNN about a recent breakthrough at my lab! That was such a humbling experience to be a part of cutting-edge research, but that's what's so wonderful about Vanderbilt – any undergraduate can very easily get involved in world-class research because professors here are so willing to take on undergraduates." Pranjal Gupta, School of Engineering, Class of 2016, Auburn, AL
"My favorite academic experience began my sophomore year and ended the summer before my junior year. Blair was hosting a giant symposium and concert called Cage-apalooza (after the composer John Cage) and one of the professors giving a talk was in the art department. I had never once considered taking an art class, but her presentation was so interesting that I felt compelled to take her class. Flash forward to junior year, I took her class first semester and we worked so well together that I did an independent study with her the following semester. At some point during spring semester, she and I saw the announcements for the Vanderbilt University Summer Research Project and knew that we should apply for it. Long story short: we applied, received the grant, and got to spend 10 weeks in New York City studying art, activism, and interaction– the whole thing funded by Vanderbilt! That summer was one of the most formative experiences of my entire undergrad career and it was possible because of the amazing faculty on campus and the lengths they are willing to go to see their students succeed." Roo George-Warren, Blair School of Music, Class of 2014, Rock Hill, SC
"For my psychology major, I will soon complete a two-year research thesis project.  At the start of my junior year, I joined the Vanderbilt Developmental Stuttering Project to work in the lab and complete my thesis under the guidance of Dr. Tedra Walden.  Working in the lab has really allowed me to apply what I've learned in the classroom about research (by designing my project, collecting data, analyzing data, and writing my thesis) and clinical work (by administering language tests, conversation tasks, and parent interviews during participant visits) and to take ownership of my own project.  I'm very proud of my thesis, about emotion and stuttering in preschool children, and of the ways I've grown as a clinician and scientist during my time on the project.  I plan on attending graduate school in speech-language pathology next year, and my research project introduced me to that field and prepared me for the challenges of my future career." Emily Morrow, College of Arts & Science, Class of 2014, Mobile, AL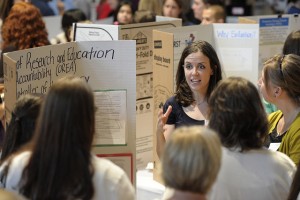 "The professors here genuinely care!  Today I had lunch with my HOD professor and we had a continued discussion of what was learned earlier that week in lecture and also about my summer plans.  Professors here are so knowledgeable and want to help you reach your fullest potential.  This coming summer, I am planning on traveling to Kenya on a community development service trip through a class I am in this semester under the mentorship of Professor Griffith."   Lauren Pak, Peabody College of Education and Human Development, Class of 2017, Los Angeles, CA
"I went abroad on a Maymester to Paris with a group of about 15 other students and one professor. The class, Modern Art and Architecture, was unbelievable. We went from museum to building learning about the history and art of the city. As a class we still get together and keep in contact almost a year later! The professor, Dr. Folgarait, even wrote me a letter of recommendation for my summer internship!"  Sarah Hendrix, College of Arts and Science, Class of 2015, Dallas, TX
"One of my favorite classes is my Advertising Studio this semester. It's become more of a community than a class–everyone in the class loves marketing and advertising so we really enjoy sharing our work with one another and getting the chance to see what we're all doing. Our professor, Bob Isherwood, has an insanely amazing amount of experience, and he's always pushing us further and giving us incredibly practical advice. It's been really instrumental in helping me figure out what I want to do after graduation."  Victoria Barner, College of Arts and Science, Class of 2014, Naples, FL
"There's absolutely something to be said about the professor accessibility here at Vanderbilt. It's incredible to me that the head of the Neuroscience department invites all the Neuroscience majors every year for a brunch at her house (to eat delicious brain-shaped foods!) as a way of opening doors for conversation. I also love the FEAST program that allows students to invite professors out to lunch on campus for free to foster relationships with faculty members that aren't necessarily made in the classroom setting."  Lucie Calderon, College of Arts and Science, Class of 2014, Baton Rouge, LA
"This semester, I had the opportunity to take a class titled Harry Potter and Child Development. It counts as a full 3-credit class and meets only four times across two weekends in Nashville, and then we spent spring break in the UK–London, Cambridge, and Oxford to be specific–learning about child development and children's literature and visiting Harry Potter sites (I STOOD WHERE HARRY STOOD, GUYS).  It was definitely my favorite class that I've taken at Vanderbilt–the traveling to England definitely plays a part in that, but it was also just really cool to see so many psychology concepts at work in the Harry Potter books, a lot of which I'd never thought about before."  Caitlyn Durning, College of Arts and Science, Class of 2014, Upland, CA