Admitted Student Visit Programs
"Congratulations! You're the newest member of the Class of 2018 at Vanderbilt University!"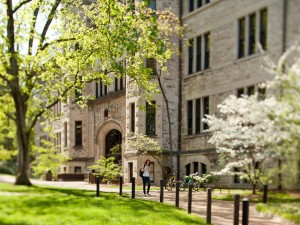 If this is the message you saw at the top of the screen on decision day, I hope you took a minute to savor the accomplishment. It's a big deal – you should be proud. And if, after that minute, you went straight for the "Claim your spot" button, then welcome. You can start counting the days until move in on August 16. But if your admission to Vanderbilt leaves you with a tough choice to make (and I've seen a few of you saying just that on Twitter), then we want to help you make up your mind.
At this point in the process, you're probably deciding between some excellent choices. But what you really want to know now is which school just feels right. Student blogger Anne Walker said it well in a recent Inside 'Dores post:
"In all honesty, when I received my acceptance a year ago, to the day actually, I was not sold on Vanderbilt. I had applied to over 10 schools, was seriously considering about 4 of them, and had never visited Vanderbilt. I was proud of myself and curious about Vanderbilt, but I was not convinced.
So what changed? Vanderbilt had chosen me, but why should I choose Vanderbilt? What made the difference?
My visit. The moment I stepped onto this campus with my mom on a beautiful April night, I knew this place was special."
There's just nothing like a campus visit for helping you find that indescribable fit – that place that just feels right when you're there.  If you haven't visited campus yet, or even if you have but you want another look, Vanderbilt offers a range of campus visit programs. Here is a quick rundown of the options: