What's Happening in Nashville
Last week, Carolyn ran through an exciting and lengthy list of campus happenings. This week, I thought I would look off campus to see what's going on in Nashville.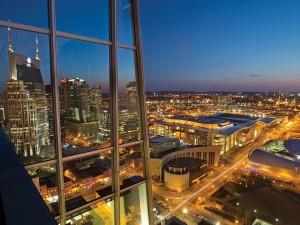 It seems that everywhere you look these days you find someone crushing on Nashville. In addition to the many accolades the city has received in recent years, The New York Times recently put Nashville on its list of 52 must-visit destinations for 2014. In fact, Nashville wasn't just on the list, it was number 15 world-wide and number three in the U.S.! Then there's The Huffington Post whose recent "22 Reasons to Visit Nashville Now" only scratches the surface of awesome in Nashville.
For those of you looking for more, here are some upcoming and ongoing things to do in Music City.
New Exhibit – Frank Lloyd Wright: Building the Imperial Hotel
January 31 – May 11, 2014
The Frist Center for the Visual Arts
Concert – Keith Urban
February 1, 2014
Bridgestone Arena
Screening – Pink Floyd's "The Wall"
February 1, 2014 at 7:00 p.m.
Tennessee Performing Arts Center
Sports – Nashville Predators Hockey
through April
Bridgestone Arena
Event – First Saturday Art Crawl
February 1, March 1, etc. (the first Saturday of each month)
Avenue of the Arts, Downtown
Performance – Othello
through February 2, 2014
The Nashville Shakespeare Festival
Concert – Neutral Milk Hotel
February 4, 2014
Ryman Auditorium
Performance – a free behind the scenes look at the winner of the 2010 Tony Award for Best Play, Red
February 4, 2014 at 5:30 p.m.
Tennessee Performing Arts Center
Concert – Kings of Leon
February 7, 2014
Bridgestone Arena
Screening – Midnight Movies
Fridays and Saturdays at Midnight
Belcourt Theatre
Exhibit – Reba:  All The Woman I Am
through June 8, 2014
Country Music Hall of Fame
Comedy – Louis Black
February 8, 2014
Tennessee Performing Arts Center
Concert – Brad Paisley
February 22, 2014
Bridgestone Arena
Performance – Shen Yun Performing Arts
February 22 & 23, 2014
Tennessee Performing Arts Center
Concert – Imagine Dragons
February 24, 2014
Bridgestone Arena
Concert – Band of Horses
March 5, 2014
Ryman Auditorium
Comedy – Jim Jefferies
March 14, 2014 at 8:00 p.m.
Tennessee Performing Arts Center
New Exhibit – Looking East: Western Artists and the Allure of Japan
January 31 – May 11, 2014
The Frist Center for the Visual Arts
Exhibit – The Bakersfield Sound: Buck Owens, Merle Haggard, and California Country
through December 31, 2014
Country Music Hall of Fame