The No. 2 Bus
At Vanderbilt, there are always exciting things happening on campus. As fun and fulfilling as on-campus events are, sometimes students want to get off campus and explore what Nashville has to offer. If you read our posts on the No. 5 and No. 7 buses, then you already know that Vanderbilt students ride the Nashville bus system for free with their Commodore Card. Today, let's look at another bus with a route adjacent to campus, the No. 2.
The No. 2 Bus, or the Belmont route, runs along Belmont Boulevard from the Green Hills area through Music Row, and then toward downtown along 12th Ave South and through The Gulch.  Along the way are great restaurants, shops, museums, historic sites, and more. Let's explore …
Toward Green Hills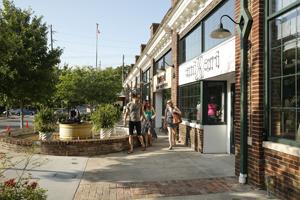 Destination: Edgehill Village (0 minutes)
Why you should go: OK, so you don't actually need to take the bus to get to this trendy neighborhood located just a five minute walk from campus. But whether you're taking the bus downtown or toward Green Hills, this is where you will start your journey, so you might as well visit. The area, formerly home to an industrial laundry factory, now houses restaurants such as Nomzilla sushi, Bella Napoli pizzeria, and Taco Mamacita, as well as options for boutique shopping, spa treatments, and fitness (though with Vanderbilt's extensive rec center this may not be a compelling reason to get off campus).
Destination: Belmont Boulevard (13 minutes)
Why you should go: The stretch of Belmont Boulevard between Portland and Blair Avenues is filled with some of Nashville's hottest restaurants, headlined by PM which was founded by former Top Chef star Arnold Myint.  Across the street from PM, you can catch the annual winter production of the Nashville Shakespeare Festival at the Troutt Theatre.
Destination: Parnassus Books (27 minutes)
Why you should go: Founded by bestselling author and Nashville native Ann Patchett, Parnassus Books is everything you could want in a great independent bookstore. In addition to a wide selection of books (with a particularly strong representation among local interests and authors), Parnassus hosts author talks and book signings, readings and discussions, and a range of book clubs.
Toward Downtown
Destination: Arnold's Country Kitchen (11 minutes)
Why you should go: The quintessential Southern diner is a meat-and-three, and Arnold's Country Kitchen is the quintessential meat-and-three. The fried okra, chicken and dumplings, roast beef, collard greens, and chess pies at Arnold's are so excellent that the restaurant has earned the most prestigious honor in the American culinary world, the James Beard Award.
Destination: Country Music Hall of Fame (14 minutes)
Why you should go: With a vast collection of memorabilia and interactive musical exhibits, the Country Music Hall of Fame tells the story of country music from the genre's origins to its contemporary stars. Through its archives, you can brush up on the essential Nashville history behind stars like Hank Williams, Dolly Parton, and Taylor Swift. Along with rotating exhibits, the museum also offers tours of historic Studio B, where hits by Waylon Jennings, Elvis, and Roy Orbison were recorded.  This is a not-to-be-missed stop, regardless of your musical tastes.
Destination: Tennessee State Capitol (17 minutes)
Why you should go: Located in the heart of downtown Nashville, the Capitol building is both the seat of state government and a working museum. Admission is free, and guided tours are offered on weekdays. The grounds of the building, completed in 1859, are also the final resting place of President James K. Polk.  And if you can't hop on the bus and venture downtown, you can take a virtual tour of the Capitol on the state of TN web site.