Hiring the Best? Hire A 'Dore.
Whether you're an employer looking to hire the best new college grads or a student looking for the right place to launch your career, you need to look no further than Vanderbilt. A new survey marks VU as one of the top universities for companies looking for ambitious new hires.  Vanderbilt ranks alongside other top schools like Harvard and Stanford on the list, which was compiled by ViewsOnYou, a startup specializing in crowd-sourced hiring analytics.  The survey methodology combines behavioral testing and peer reviews in order to build an individual profile of 23 personality traits, such as drive, curiosity, and resilience.
It's no surprise to those of us who know Vanderbilt students that they would rate as highly ambitious, motivated students. From the entrepreneurial to the academic to the service-oriented to the artistic, I consistently marvel at the amazing heights to which Vanderbilt students not only aspire, but also reach.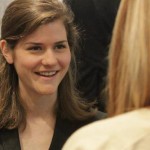 Beyond the remarkable personal stories, Vanderbilt's Center for Student Professional Development also quantifies the employment and educational ambitions of Vanderbilt graduates.  From the 2013 Post-graduation Report:
At graduation, "65.3% of students completing the survey had obtained full-time employment or had received an offer."
Of the graduates planning further education, 90.3% had been accepted into graduate or professional school.
74.3% of students had completed an internship by graduation.
Top industries to employ Vanderbilt graduates:

Consulting, Management, & Human Resources – 21.9%
Engineering & IT – 18.6%
Education, Community Organizations, & Nonprofits – 16.4%
Arts, Media, & Communications – 15.5%
Financial – 10.1%
Health Care – 9.0%
With numbers like these, it's not surprising that Vanderbilt is increasingly being seen as a place to hire great talent.  And when they graduate, Commodores don't have far to look for opportunities:  In 2012, Kiplinger recognized Nashville for having the "Fastest two-year job growth among all metro areas" and this year Forbes rated Nashville as the #2 "Top City for Jobs." Looks like everyone is catching on – if you want to hire the best, hire a 'Dore.