Commodores Win the BBVA Compass Bowl
"There will never be a point in your life when it's the right time to do a great thing."
Before every single game, the Vanderbilt Commodore football team gathers together and views a motivational video that is produced specifically for them by the team's video department.  The night before the 'Dores took on the Houston Cougars in the 2014 BBVA Compass Bowl was no different.
If you want to get a firsthand experience of this brilliant pregame ritual, check out the video below – but I must warn you, there's a distinct possibility that you will feel an overwhelming urge to get up and run 5 miles right after viewing.  If you are anywhere near the northeast right now, I strongly suggest you fight that urge.
After filling their heads with all of these positive motivational thoughts and images of the hard work they've endured over the course of this season, one might ask, how could the Commodores not completely dominate their opponents in Birmingham the next day?
In truth, last Saturday's bowl game was an epic experiment in the science of momentum.  The 'Dores did in fact dominate the first half, holding the Cougars to only 22 yards and one first down, and went into the locker room with a commanding 24-0 lead.  Redshirt freshman QB and Tennessee native Patton Robinette threw two touchdown passes to senior wide receiver Jordan Matthews, who broke a BBVA Compass Bowl record with 143 receiving yards in the first 30 minutes.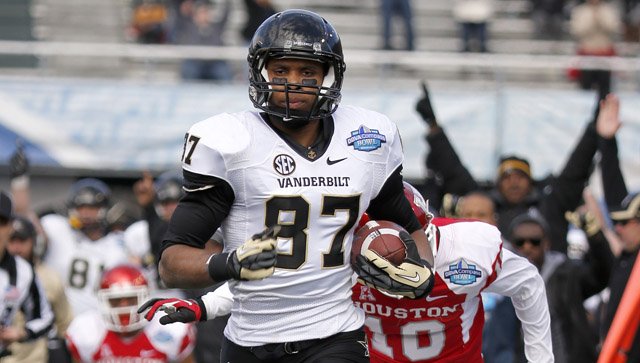 Someone must have slipped Houston our motivational video at halftime, however, because the Cougars came out of the locker room with a vengeance and scored 24 unanswered points to tie the game by the end of the 3rd quarter.  In his post-game press conference, head coach James Franklin joked, "We were told by the ESPN people that the ratings had gone down so we wanted to spike them back up by making it exciting in the third quarter."
It is certainly one thing to shift momentum after the rest and regrouping of a long halftime, but another thing altogether to take that momentum back in the short commercial break before the 4th quarter – and of course, that's exactly what the Commodores did.  Sophomore running backs Brian Kimbrow and Jerron Seymour each scored a touchdown in the final 15 minutes, and senior kicker Carey Spear added a field goal to end the game with a final score of 41-24, Vanderbilt.
The victory rounded out the 'Dores second 9-win season in a row, and marked the first time in history that the program has won back-to-back bowl games.  And as a much-deserved cherry on top, Vanderbilt ended the season as a nationally ranked team once again, earning the #23 spot in the final USA Today Coach's Poll and #24 in the Associated Press.
And for those who are wondering, there are exactly 28 days until signing day 2014…  Anchor down!