Reminder – Merit Scholarship Application Deadlines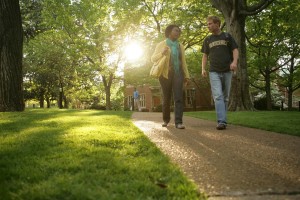 There's still time to apply for merit scholarships at Vanderbilt.  The deadline for The Cornelius Vanderbilt Scholarship, The Chancellor's Scholarship, and several additional merit scholarship opportunities is December 15, 2013. [Note: you DO NOT have to complete your Common Application by December 15 in order to be considered for merit scholarships.]
Each year Vanderbilt awards merit scholarships to applicants who demonstrate exceptional promise and ability, who have assembled a truly outstanding academic record, and who are leaders in their communities.  Recipients of Vanderbilt's three signature scholarships – The Ingram, Cornelius Vanderbilt, and Chancellor's Scholarships – are guaranteed full-tuition awards, plus summer stipends for study abroad, research, or service projects. These recipients represent the top of an already talented applicant pool, so the selection process is very competitive. Here's your need-to-know info for both the Cornelius Vanderbilt and Chancellor's Scholarship Programs:
The Cornelius Vanderbilt Scholarship Program
Mission and History: Vanderbilt's largest academic merit scholarship program recognizes students who combine outstanding academic achievement with strong leadership and contributions outside the classroom. Honoring the vision of the university's founder and namesake, Commodore Cornelius Vanderbilt, this scholarship seeks to further his original mission to "contribute to strengthening the ties which should exist between all sections of our common country."
Application: Apply online
Selection: Cornelius Vanderbilt Scholars are selected on the basis of academic achievement, intellectual promise, and leadership and contribution outside the classroom.  In evaluating candidates, the selection committees review the entire application for freshman admission along with the Cornelius Vanderbilt Scholarship application. Audition scores are a factor in merit scholarship selection for Blair School of Music candidates.
The Chancellor's Scholarship Program
Mission and History: Begun in 1985 by Chancellor Joe B. Wyatt, the Chancellor's Scholarship honors students with outstanding academic records who have worked to build strong high school communities by bridging the gaps among economically, socially, and racially diverse groups.  Chancellor's Scholars also will have demonstrated significant interest in issues of diversity education, tolerance, and social justice.
Application: Apply online
Selection: Chancellor's Scholars are selected on the basis of commitment to diversity, leadership, community engagement, and academic achievement.  In evaluating candidates, the selection committee reviews the Chancellor's Scholarship application along with the entire application for freshman admission.
These merit-based scholarship awards are renewable through four years of undergraduate study as long as the recipient maintains satisfactory academic performance. Each of Vanderbilt's four undergraduate schools awards a number of scholarships proportionate to the school's enrollment. Your choice of decision plan – whether you apply Early Decision or Regular Decision – is not a factor in the merit-scholarship selection process.
Vanderbilt also offers a limited number of additional merit-based scholarships in amounts varying from $8,000 per year up to full tuition.  These scholarships include:
The Carell Family Scholarship for students who have held part-time employment during their high-school years and demonstrate financial need,
The Curb Leadership Scholarship for students who place creativity and innovation at the center of their lives and use their talents and leadership to create new possibilities and solve problems in their chosen fields,
The John Seigenthaler Scholarship for outstanding minority students interested in a career in journalism and/or public policy,
The Fred Russell-Grantland Rice Scholarship for students interested in pursuing a career in sports journalism, and
The Top Tenn Scholarship for outstanding graduates from secondary schools in Tennessee.
To be considered for these awards, submit the Cornelius Vanderbilt Scholarship application by December 15, 2013. The majority of these awards are based solely on academic achievement, but several have specific qualifications. Vanderbilt also awards scholarships designated for students residing in Houston, Texas, and selected counties in Arkansas, Georgia, Kentucky, and Tennessee.
Check out the Merit Scholarships Frequently Asked Questions page for more information or contact the Office of Student Financial Aid and Undergraduate Scholarships with questions of your own.