Notes on the Thanksgiving Holiday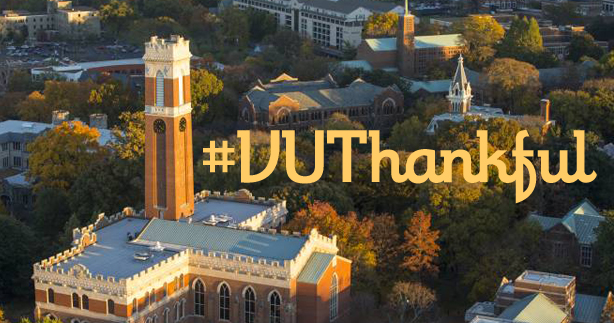 As Thanksgiving approaches and I reflect on the many things for which I am thankful, near the top of my list this year is the fact that I am a part of the Office of Undergraduate Admissions and the Vanderbilt community. This year my wife and I are hosting Thanksgiving for my extended family at our house, and on my list of holiday to-do's is to bring my grandmother to campus to show her where I work.  (Other items on my Thanksgiving to-do list include eating massive portions of my grandmother's pecan pie and watching "A Charlie Brown Thanksgiving" with my little boys.)
As we at the Office of Undergraduate Admissions prepare for the Thanksgiving break, we want to insure that you have the most timely information regarding our office hours and schedules. See the information below for details.
From all of us in the Office of Undergraduate Admissions, we wish you a restful, relaxing break and look forward to speaking with you when we return!
Office Hours
In observance of Thanksgiving, the Office of Undergraduate Admissions will be closed on Thursday, November 28, and Friday, November 29.
Important Contact Information
To check for receipt of application materials, log in to your MyAppVU account.
For general questions, call our main office at  1.800.288.0432 or email admissions@vanderbilt.edu and a member of our staff will be happy to assist you.
Contact your Admissions Counselor with any detailed requests related to your application.
For assistance with CoRPs interviewing, please contact Jennifer Grell at corps@vanderbilt.edu or 615.343.8286.
Finally, we invite you to share your reasons for giving thanks this holiday. Tell us here at the blog or tag your Twitter, Facebook, or Instagram posts with the #VUThankful hashtag. Happy Thanksgiving!