Our Cup Runneth Over
Vanderbilt's class of 2017 has been living on The Martha Rivers Ingram Commons for a couple of months now. In that time they've been learning how to navigate their way around campus, getting to know their Faculty Heads of House, and adjusting to the realities of a college education. As the class of 2017 is learning, the first-year campus-within-a-campus of The Ingram Commons is a great setting for making a successful transition to the rigors of college life.
But life on the Ingram Commons isn't all nose to the grindstone for first-year students. In fact, the first-year experience is specifically designed to help students foster an appropriate balance between work and play. This is perhaps most evident in the friendly competition known as The Commons Cup, in which each of the houses on the Ingram Commons vies for points through community-wide activities.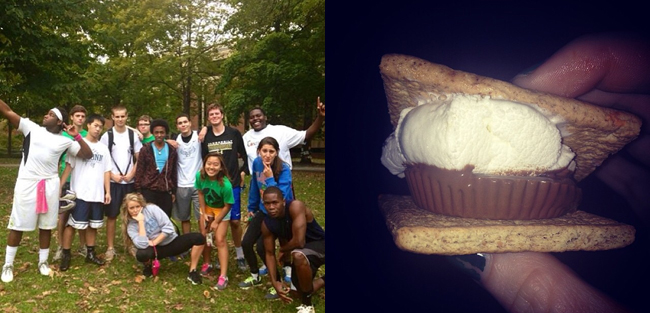 The Commons Cup competition is divided into five categories – academics, sustainability, service, community involvement, and athletics – with houses gaining points through involvement in each area.  Community involvement can take the form of house-wide events, like Memorial House's recent S'Memorial, in which residents gathered on the house front porch to enjoy s'mores, pumpkin carving, and each other's company.  Flag football and kickball competitions on Magnolia Lawn are a couple of the athletic activities included in the Commons Cup. In academics, houses earn points through cumulative house GPA as well as the Knowledge Bowl, a quiz bowl style competition held each fall and spring.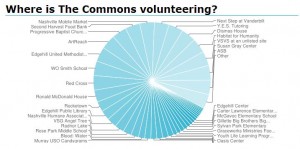 House involvement in community service is recorded and tracked with a nifty online tool that shows the remarkable commitment that Vanderbilt students have for service as well as the amazing variety of ways they are volunteering. Likewise, house energy conservation is measured and reported online.
Last year North House took home The Commons Cup. Who will win this year? You'll have to stay tuned. In the meantime, you can get a feel for The Commons Cup through this video series:
The Commons Cup is a fun way for first-year students to get to know each other and begin forming a community. That community goes well beyond the Commons Cup, though, as you can see from a visit to Common Place, the online home for life at The Ingram Commons. A quick scroll through the current headlines shows everything from informal creative writing workshops, to an evening dinner and discussion of genetics with Faculty Head of House Dr. Roger Cone, to a field trip to a local farm, to the annual Crawford Haunted House. The class of 2017 has crammed a lot of activity into their first two months on The Ingram Commons – just imagine what they'll do with the rest of this year.