Homecoming 2013
There's something special about homecoming week at Vanderbilt.  A buzz of excitement and activity starts to build in the days leading up to the events and crescendos as we progress through the week.  Former Vanderbilt students flock to campus from all over the world to reminisce on their time as Commodores and to find out what our current students and their old professors have been up to.  Finally, this buzz explodes into a deafening roar as the week's celebrations culminate in one of the most exciting and anticipated football matchups of the year.
This year's homecoming week has been no exception when it comes to excitement and activity.  Some of the highlighted activities that have been happening on campus for the last several days are below: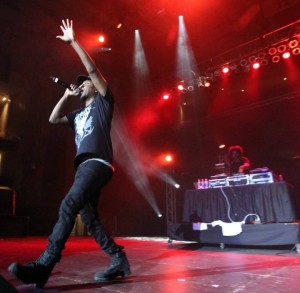 Commodore Blood Drive:  The American Red Cross and Alpha Phi Omega, a national co-ed service fraternity, hosted a three-day blood drive Monday through Thursday in Sarratt Student Center.
Student Organization Competitions:  Any of our 510+ registered student organizations had the opportunity to compete in a number of competitions throughout the week, including a volleyball tournament, a school spirit banner design contest, and a trivia night.
Commodore Quake:  One of the most anticipated on-campus music events of the year, Commodore Quake went down in Memorial Gymnasium last night, and the acts did not disappoint.  Opener Wale and headliner Kendrick Lamar rocked a packed house of Vanderbilt students and alumni, as well as members of the greater Nashville community.
Block Party:  This year's block party will take place tonight at 7 PM on Kensington avenue and will feature student performances, food from some of Nashville's best eateries, inflatables, free sunglasses and T shirts, and the musical stylings of Biz Markie (yes, that Biz Markie).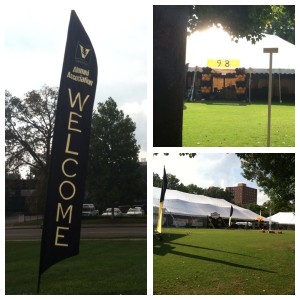 Class Parties:  While our current students are singing along with "Just a Friend" at the block party, Vanderbilt alumni from the classes of 1968, 1973, 1978, 1983, 1988, 1993, 1998, 2003, and 2008 will be reuniting at their respective class parties on alumni lawn.
Gameday Tailgate and Kickoff:  The Vanderbilt Commodores will be taking on the Missouri Tigers in their third SEC football match-up of the year.  The 'Dores have won their last two games by a combined 45 points, and this game promises to be a thrilling one.  Vandy and Mizzou will be kicking off at 6:30 PM Central Time, and the game will be televised on the CSS Sports Channel.
While each of these events is fun and exciting in its own right, homecoming at Vanderbilt is one of those experiences in which the whole is so much more than the sum of its parts.  It is more than just a football game and a series of gatherings and events surrounding that game; homecoming is about celebrating the Vanderbilt experience and the strong, vibrant community of current and former students that spans states, countries, decades, and even generations.  Homecoming is about celebrating that every single person who has ever strolled across Library Lawn or studied at a desk in Calhoun has one very important thing in common: they are all Commodores.