The Number 7 Bus
Thinking of getting off campus this weekend? Here are some great Nashville destinations that are just a short bus ride away.
My last look at getting around town on the Nashville bus system featured the No. 5 bus route, which runs from downtown Nashville out West End Avenue (where the No. 5 drops me off at the OUA each morning).   In this installment, I'll look at the No.7 route, a bus I used to ride when I worked at Vanderbilt Programs for Talented Youth in the Wyatt Center.  The No. 7 bus follows the path of Broadway/21st Avenue/Hillsboro Road on its way from Downtown to Green Hills, and it's particularly useful for first-year students since it runs past The Martha Rivers Ingram Commons.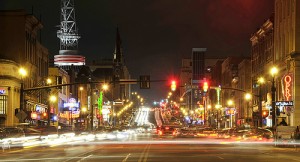 Toward Downtown:
Destination:  Bridgestone Arena (15 minutes)
Why you should go:  From Taylor Swift, Kid Cudi, and John Mayer, to Disney on Ice and the Country Music Awards, Bridgestone Arena is one of Nashville's premier venues for big-time performances. The arena is also home to the Nashville Predators during hockey season, and has hosted SEC tournament basketball as well. In 2014 the arena will be the site of the NCAA Women's Final Four.
Destination:  Nashville Public Library, Main Branch (15 minutes)
Why you should go:  Sure, there are plenty of libraries on campus, but do any of them have their own world-class puppet troupe? Though the Nashville Public Library offers extensive collections, books are only part of what makes this a great destination. In addition, the library offers puppet shows, live music, and lectures by current authors.  The library also functions as a museum, housing archives of Tennessee oral history and a remarkable Civil Rights Collection focused on Nashville's history.
Destination:  Public Square Park (21 minutes)
Why you should go:  A beautiful public space in the heart of downtown, Public Square Park is the perfect spot for an urban picnic or an outdoor concert. Each year the park is home to Live on the Green a series of free open-air concerts by up-and-coming artists. Inside 'Dores blogger Luke Annapolis attended earlier this month and blogged about his experience.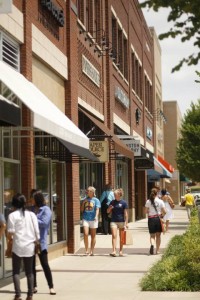 Toward Green Hills:
Destination:  The Mall at Green Hills (17 minutes)
Why you should go: The Mall at Green Hills is a one-stop destination for shopping, food, and entertainment.  Browse at stores like Macy's, Brooks Brothers, Williams-Sonoma, and the Apple Store. Grab a bite to eat at The Cheesecake Factory or Noodles and Company.  And catch a movie at the Green Hills Cinema. Whether you're fashion-forward or just interested in catching a good flick, there's something fun for you at The Mall at Green Hills.
Destination: Fox's Donut Den (21 minutes)
Why you should go:  With its vintage neon sign and delicious fresh-made donuts, Fox's Donut Den has been a Nashville landmark for over 30 years. This is one of the places you just have to go in order to get the full local flavor of Nashville. And at the Donut Den, that flavor is sweet.
Destination: Bluebird Cafe (27 minutes)
Why you should go:  Located in an unassuming strip-mall, the Bluebird Cafe doesn't look like much at first glance. However, this tiny music venue has long been the premier location for Nashville songwriters to debut their work. Stars such as Tricia Yearwood, Vince Gill, Garth Brooks, Dierks Bentley, and Faith Hill have all performed at this one-of-a-kind venue, which received even more attention after being featured on the ABC show "Nashville". You never know whether you'll see a huge star or the next-big-thing when you go see a show at The Bluebird Cafe.