Somebody Help Me! Academic Resources at Vanderbilt
When I was a high school student, approximately a century and a half ago, I remember my parents, teachers, and guidance counselors terrifying me with their characterizations of what academic life in college was going to be like.  "Your professors won't check up on you like we do."  "You'll have to figure out how to study and get the work done on your own."  "No one is going to help you."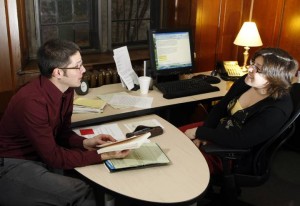 Fortunately, those statements were mostly scare tactics used to spark my sense of personal independence and motivate me to do my calculus homework.  In reality, I was granted access to a wealth of academic resources at Vanderbilt that I did not even know existed as a high school student.  For those of you who are concerned about having no one to turn to when the work is piling up and the stress of college starts to overwhelm, we have compiled a list of helpful offices and individuals who are here to support all of our undergraduate students:
College of Arts and Science Pre-Major Academic Advising Resources Center (CASPAR):  As an admitted student to the College of Arts and Science, you will be in contact with your CASPAR adviser before you even step foot on campus.  This adviser will help you select your first-year classes and guide you academically until you officially declare your major during sophomore year.  CASPAR advisers are also available to all undergraduate students (not just Arts and Science!) for general academic guidance.
Major advisers: All undergraduate students will be assigned a faculty adviser in the department of their chosen field of study whenever the major is officially declared.  These faculty members will help you select your classes each semester and offer general academic advice as you plan your career both within and beyond the Vanderbilt experience.
Pre-professional advising:  Vanderbilt offers additional advising to students who are interested in pursuing health-related careers, law, or architecture at the graduate level.  These programs will be completed in addition to your chosen major, and pre-professional advisers will act as resources in regard to selecting courses, as well as selecting and applying for graduate-level programs.
All faculty members:  Each and every one of our tremendous faculty members schedules weekly office hours during which students can visit and seek guidance either on specific assignments or general academic issues.  First year students also have unique access to the Faculty Heads of House, each of whom live in apartments in one of the 10 Houses on The Martha Rivers Ingram Commons.
Center for Student Professional Development (CSPD): This office, which is housed within the Student Life Center, provides resources and advice for students who are interested in pursuing internships during their undergraduate years.  It also serves as the central hub for the post-graduation career search, offering mock interviews, job fairs, networking resources, and more, to graduating seniors preparing for the next step.
Tutoring Services/Writing Studio:  Both of these offices are located in the newly renovated Alumni Hall and offer targeted support for students in a variety of academic areas.  The Tutoring Center features Help Desks for questions in biological sciences, chemistry, physics, engineering, economics, foreign languages, and mathematics.  The Writing Studio is open to all undergraduate students seeking assistance with any writing assignments.
So Vanderbilt students have a lot of support.  Don't believe us?  Reach out to any of our current students to find out more about the types of academic guidance they have received along the way.