Road Show Recap
As I write this post on the four-hour direct flight from LAX to BNA, Nashville's international airport, several exciting things are happening.  First, I am experiencing the miracle of in-flight internet, which is proving to be the perfect way to distract myself from the fact that we are billions of miles above the ground right now (or something like that).  Second, the students of the Vanderbilt Class of 2017 are moving into their houses on The Martha Rivers Ingram Commons, marking the culmination of a year's worth of recruitment and application-reading in our office, not to mention many years of academic and extracurricular achievement on the part of these magnificent new Commodores.
Third, about 15 of our admissions counselors are making their way back to Nashville from their legs of the week-long Vanderbilt Road Show, which reached more than 40 cities and over a thousand high school students all over the country in six short days.  Road Show serves as the kick-off of our fall travel season, during which all of our counselors visit high schools and attend various recruitment events in their respective geographic territories.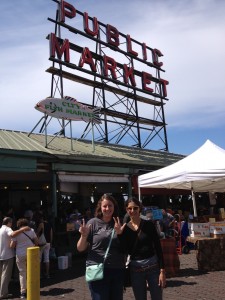 This was my third Road Show trip, and as always, it proved to be a fast-paced, exciting, and eye-opening venture into new regions and communities, some of which I had never visited before.  This year, I traveled to the west coast with fellow counselor Adrienne Spraggins to attend events in Seattle, Portland, San Francisco, Santa Monica, and Anaheim.  I like to view these trips, like most other experiences in this job, as an educational experience, and I would like to share a few of the lessons we learned along the way. . .
1)      When driving a rental car into the downtown of an unfamiliar city, it is important to remember (a) what the car looks like and (b) where you parked it.  Losing track of these two pieces of information could cause a significant setback in your schedule.
2)      Our prospective students, their families, and their communities are extremely diverse.  High school curricula, extracurricular interests, academic and professional ambitions, and personal experiences and backgrounds vary drastically both within and between different regions of the country.  I can assure you from first-hand experience that your Vanderbilt class will bring together all types of students, and your interactions with your classmates will define and enrich your college experience.
3)      Though dynamic and diverse, our prospective students are equally accomplished no matter where they come from.  From athletic captains to valedictorians to entrepreneurs to medical researchers, these students continue to blow me away with their dedication to both their academic performance and the impacts they are making in their communities.
4)      San Francisco's airport is on the water.  This does not appear to be an issue for the pilot, or air control, or any of the other passengers on the plane, but I think it is an important thing to be aware of ahead of time – especially if, like me, every aspect of the flying experience terrifies you.
5)      Our alumni are still reaping the benefits of their Commodore experiences long after graduation.  At several Road Show events, Vanderbilt alumni volunteers had the chance to give their own personal, no-holds-barred perspectives on their alma mater, and they certainly did not disappoint.  All of these speakers had found success in their chosen careers, whether they graduated 10 or 25 years ago, and all were eager to share the life experiences and opportunities that Vanderbilt had offered them.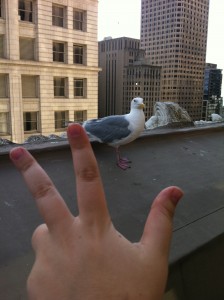 6)      Our students are not the only ones who enjoy the Vanderbilt experience.  We also had the chance to hear from the parents of current students, all of whom had wonderful things to say about the support available to their sons and daughters on campus and in Nashville.  They also spoke to the affordability of the Vanderbilt experience, through both need-based and merit-based aid, and the freedom their students had in exploring various academic and career paths throughout their undergraduate years.
7)      The weather on the west coast in August is fantastic; Adrienne and I enjoyed the 70 degree sunny days all week long, as well as the fact that humidity does not appear to be something that exists in Washington, Oregon, or California.  The seafood there is also pretty incredible.
8)      That being said… Nashville is still the greatest city in the world.  As much as I will miss sunny California, I miss home more, and I cannot wait to land on solid ground and be welcomed with open arms back into the uniquely urban southern charm of Music City.