First-Year Writing Seminars
Walking across campus today, it's clear that school is back in session. The Commons Center dining hall is bustling again, Frisbees are flying on the lawns, and student organizations are gathering at The Wall.  There's an energy that just wasn't here over the summer.  The students are back.
So begins another academic year.  As a student, I always loved this time of the semester. Not only were finals way off in the future, but each class was brand new and seemed to offer so much promise. I always relished reading through the course offerings at the start of each semester to decide on my new classes. And though my undergraduate days are behind me, I still get a vicarious thrill from reading the course catalog.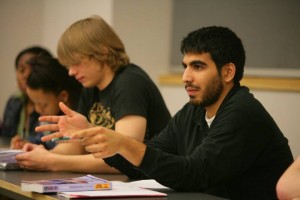 My favorite course descriptions to read these days are the First-Year Writing Seminars.  These courses, part of the College of Arts and Science AXLE curriculum, are a foundation for each new A&S student. Taken in either the fall or spring of the first-year, these seminars give students an opportunity to hone their skills at articulating ideas and engaging in critical discussion. And with just 10-15 students per class, these courses also introduce first-years to the seminar format, in which they're able to engage in small group discussions with faculty and peers.
Although these seminars are writing intensive, they are not writing exclusive:  the content of each course is wide-ranging and interdisciplinary. And that is why I love reading the course descriptions so much. Are you interested in film? There's a course this fall called Italian History and Culture Through Cinema.  What about music? Michael Rose, associate professor of composition at Vanderbilt's Blair School of Music, teaches Music and Modernism: The Plunge into the Abyss.  Want to study political science? You could take American Constitutional Law: Civil Rights and Civil Liberties. There's even a course this fall called Disney in America that introduces students to the discipline of Anthropology through an analysis of Disney films like The Little Mermaid and The Lion King in order "to see how Disney shapes our conceptions of gender, race, family, and class."
It's not just humanities offerings that fit within the writing seminar format, either. You might be surprised to see Chemistry, Climate Change, and Energy Policy or Genes and Society listed among the fall course offerings.  Although math was never my strongest subject, I would be hard-pressed to turn down The Mathematics of Games.
These courses maximize opportunities for interdisciplinary work, while enforcing the idea that writing is central to all fields of study. As the 2013/2014 AXLE catalog explains, "students learn not only about the subject matter of the seminar, but are also exposed to new methods of acquiring knowledge, different ways of expressing and sharing ideas, and unique opportunities to participate in critical inquiry." To which I say, "Sign me up!" The hardest part would be choosing just one.