Alumni Hoops
On Saturday, some of the best basketball players in Vanderbilt history gathered at Memorial Gym for the first ever Men's Basketball Alumni Game. The VU Athletics website has the game story:
The Black team, comprised of veterans from 1990-2006, defeated the Gold team, alumni from 2007 to the present, 77-76, to claim the first annual Alumni Game Saturday afternoon at Memorial Gym in front of close to 5,000 fans.
Mario Moore (2005) and Derrick Byars (2007) led the Black team with 21 points apiece.  Corey Smith (2005) added 15 points, while Anthony Williams chipped in six points and a game-high five rebounds.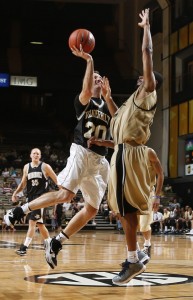 The Black team, or "the old guys" as the players called themselves during interviews, nudged out the younger team despite the efforts of all-time VU point-scorer Shan Foster and 2012 graduates Steve Tchiengang and Lance Goulbourne. This wasn't just a pickup game either. Check out the photos at the Athletics site to see for yourself – these guys came to play.
The Athletics site also features some great interviews with the alumni. One thing that stands out in all of these interviews is the way that participation in high-level athletics during college prepared players for life after school. Many of the alumni praised Head Coach Kevin Stallings and his staff not only for their basketball leadership, but also for their mentorship off the court. In one interview, second round draft pick and current Charlotte Bobcats player Jeffery Taylor says, "In my years here at Vanderbilt I grew up a lot, and I think I went from a boy to a man." Other players talked about the importance of the camaraderie that they developed playing at Vanderbilt. A few years removed from their undergraduate days, these alumni were able to put their athletic experiences in context and talk about its importance to their development.
Another fact made clear from both interviews and the game itself is that these guys are intensely competitive. Mario Moore, Saturday's leading scorer, took some time from his college coaching career to drop 30 pounds over the last three months in preparation for the game ("No sodas, all water" he said). And both the pre- and post-game interviews featured plenty of (mostly) good-natured trash talking between former teammates. Although they may have finished their Vanderbilt athletic careers, these players are still fierce competitors.
As a showcase for both camaraderie and competition, the Alumni game looks like a worthy addition to sports tradition at VU. It's also a pretty good way to start getting excited about Memorial Madness. Now, how many days until the basketball season tips off?