Come on and Take a Free Ride
A great perk of working at Vanderbilt is that employees ride the bus to work for free.  Just swipe your Vanderbilt ID, and you're on your way.  In fact, I use the bus every day for my commute from East Nashville. Not only does it keep me from pulling my hair out trying to find parking, but it also allows me to read or work during my commute (things I generally avoid when driving).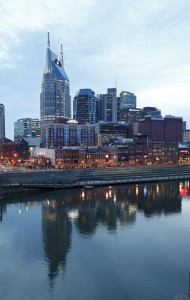 Students get an even better deal:  they ride the bus free anytime, anywhere.  This is especially handy for first-year students, who aren't allowed to bring a car to campus.  But really, it's a great deal for any student because it's a convenient, affordable, and environmentally-friendly way to get around town.
And, as anyone familiar with our Know Your City series will tell you, you'll definitely want to explore Nashville. So I'm introducing a new series of posts highlighting some of the great things to do along various routes.  Let's start with the bus I ride to work, the No. 5.
The No. 5 runs from downtown along West End Ave past Vanderbilt, through Belle Meade, then out the Memphis-Bristol Highway to Bellevue.  From campus you can take the No. 5 toward Downtown, or toward Bellevue.
Toward Downtown:
Destination:  The Gulch (8 minutes)
Why you should go: Filled with trendy shops, top-notch restaurants, and funky music venues like The Station Inn, The Gulch is one of the most dynamic neighborhoods in town. It's the stop for exploring Nashville's chic, cosmopolitan side.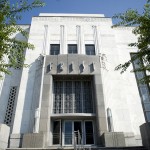 Destination:  The Frist Center for the Visual Arts (9 minutes)
Why you should go:  The Frist is Nashville's premier art museum.  And, because it draws its exhibitions from the collections of other national and international museums, the art on display is always changing.
Destination:  Tennessee Performing Arts Center (or just TPAC) (13 minutes)
Why you should go:  From traveling Broadway shows, like Beauty and the Beast or Wicked, to new works by local playwrights at The Tennessee Rep, TPAC hosts great theater. Stand-up comics Aziz Ansari and Dmitri Martin have also brought their acts to the TPAC stage.
Toward Bellevue:
Destination:  Elmington Park (8 minutes)
Why you should go:  On a typical weekend afternoon, Elmington park is filled with pickup soccer games, dog walkers, great local food trucks, and even medieval combat enthusiasts.  In the summer it hosts  Movies in the Park, a perfect way to spend a summer evening (just ask Inside 'Dores blogger Victoria Barner).
Destination:  Belle Meade Plantation (20 minutes)
Why you should go:  Learn about Nashville's antebellum past by visiting this historic plantation and touring the 193-year-old mansion.
Destination:  Phillip's Toy Mart (22 minutes)
Why you should go: First opened in 1946, Phillip's Toy Mart is an excellent independent toy store and a Nashville tradition – and that's a good enough reason for me.