On Leaving
It's with varied emotions that I announce today to be my last working for the Office of Undergraduate Admissions. During my tenure as Web Content Producer and then Interactive Project Strategist, I wore many hats, though few rival the enjoyment of presiding over the admissions blog. Thanks to everyone who read along as I gushed about Nashville through the Know Your City series, bragged on Vanderbilt academics and student life, and drafted Mailing Day posts that allowed me to interact with many of you. Same goes for those of you who engaged me on Facebook, Instagram, and Zinch, or took the virtual tour of Vanderbilt that I had the great pleasure of bringing to life with the aid of several colleagues in and outside of the OUA.
My experience at Vanderbilt was my first working in higher education and it has been incredibly rewarding. I think of the simple pleasures, like taking ten minutes most days to stroll across campus, being uplifted by the beauty of the terrain itself and bearing witness to meaningful student, staff, and faculty interactions everywhere I turn. Or my near daily encounters with the friendly baristas at Last Drop Coffee Shop, who sling coffee, authentic conversation, and humor in equal measure no matter how long the line on any given day. (Boston Anne, Auntie and team also remember the names of nearly every student, faculty, or staff member who darkens their door – yet another way it's easy to feel like you're part of a community here.) I think of working at Vanderbilt during a period of achievement in the athletics program that hasn't been seen in a long time – honestly the 'Dores weren't on my radar before 2011, but I'll sure be hollering ANCHOR DOWN from here on out.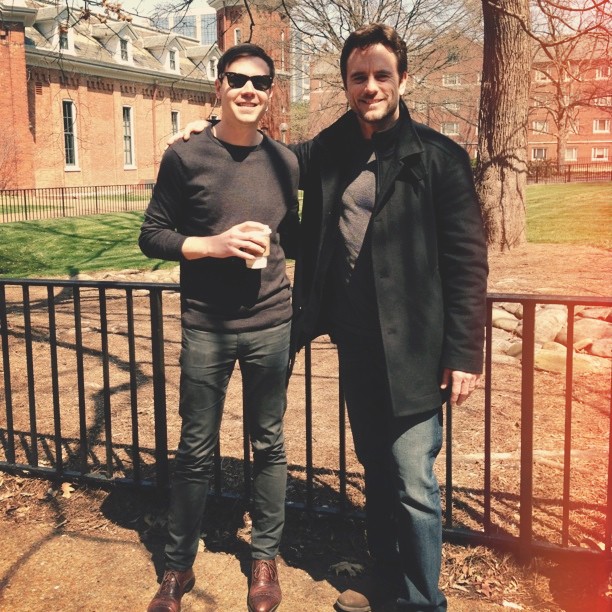 I also think of all the learning or groundbreaking research going on at any given moment on and off campus, and how truly inspirational that has been. Each morning I opened my email to a series of stories documenting all the great things taking place in the four undergraduate schools, or how Commodore alums are impacting the world on a massive scale. I think of programs like Next Steps (the inspiration for this blog post), which allowed me to connect with the people behind the program and to be changed because of that interaction. You do not have to look far on this campus for affirmation of the goodness and potential of our fellow humans.
Inevitably, though, reflecting on my time at Vanderbilt brings me back to the Office of Undergraduate Admissions and the individuals who I've had the fortune of working alongside through two intense cycles. 'Admissions' isn't just a job to this group – it's a calling. I could go on about the long hours they spend reading files and deliberating deep into the night while shaping the next class, or the sheer tons of energy that go into each visit program or months long tour of high schools around the world. All of that is impressive in its own right, but it pales in comparison (at least from where I sit) to the genuine love the admissions officers and staff have for engaging you in what can be an emotional process for both sides. Many of these people could work in more lucrative careers, but choose a more service-oriented profession because that's what their hearts dictate. "I have the best job in the world" is a phrase I've heard many, many times without prompt from colleagues who look bleary-eyed from lack of sleep or jetlag, or who missed yet another weekend without muttering a complaint due to work commitments.
If it sounds like I'm making martyrs of my colleagues, I'm not – I just wanted to use this final post to, among other things, convey that you are in good hands with this crew. I know I have been.
Well I suppose that about does it, friends. From here you can continue to count on regular posts from Carolyn and others, and I look forward with great anticipation to seeing all the remarkable things future classes of Commodores will inevitably accomplish.
Goodbye and Go 'Dores!