Music City Gives Back to VUMC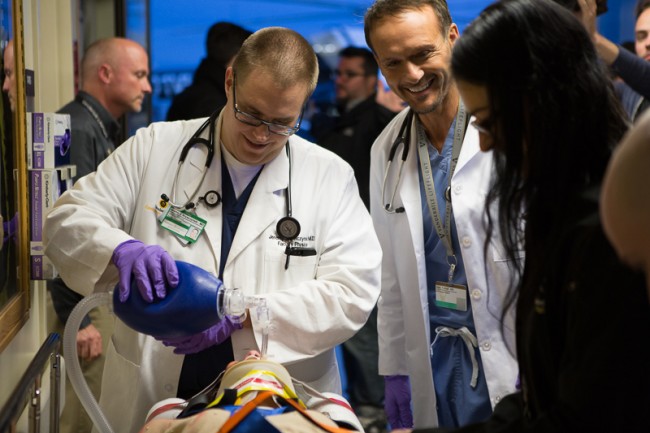 One of the many perks of living in Music City is the high frequency of celebrity sightings in almost any part of the city.  From bumping into Carrie Underwood on Broadway to Faith Hill making a surprise appearance at L.P. Field, being in the hub of the country music community definitely adds an element of interest and excitement to everyday Nashville living.
It may surprise you to learn that the Vanderbilt University Medical Center (VUMC) is among the places where world famous musicians are known to appear.  VUMC, which is located across 21st Avenue from The Martha Rivers Ingram Commons and houses many research opportunities for undergraduate students, has teamed up with many of these celebrities over recent years to raise money and awareness for its patients.
Most recently, country superstar Tim McGraw reached out to VUMC to help in the creation of his new music video for "Highway Don't Care," which features Taylor Swift and Keith Urban.  The video, centered around a young woman injured in a car wreck, is meant to raise awareness of the dangers of distracted driving.  More than 20 Vanderbilt faculty and staff participated in making the video, which features Vanderbilt LifeFlight, Vanderbilt University Hospital and the Adult Emergency Department.
Check out this MyVU article for more details on the video shoot and the important message behind it.
McGraw is not the first Nashville celebrity to team up with VUMC to make a difference in the community.  Grammy Award winning group Rascal Flatts has raised nearly $3 million over the past several years through concerts and fundraising events for the Monroe Carrell Jr. Children's Hospital.  This money is being used to build a new radiology suite, and last fall the group was honored for their philanthropic commitment with the naming of the pediatric surgical suite as the "Rascal Flatts Surgery Center."
Country star and Vanderbilt alum Dierks Bentley has also made great efforts to give back to his alma mater through his contributions to the Medical Center.  For the last seven years, Bentley has organized the "Miles & Music for Kids" event, a celebrity motorcycle ride that starts in Columbia, Tennessee, and ends in downtown Nashville, followed by a concert that has featured the likes of Tim McGraw, Big and Rich, Sheryl Crow, and of course Bentley himself.
(My senior year I attended the concert portion of this event – not the motorcycle ride, my mother would not have approved!  Dierks himself was late for the concert, as his wife had just given birth the night before – at the Monroe Carrell Jr. Children's Hospital.)
Music City, you see, is more than just rhinestones and cowboy boots and sold out concert venues.  Just like country music itself, it hinges on this idea of community and goodwill that permeates the entire city – a community that we are proud to be a part of here at Vanderbilt.