Why VU? A Truly Involved Experience
To all of you who have been admitted to Vanderbilt, along with a number of other fantastic universities, I wish you both stress and joy.
Stress may seem like an odd thing to wish upon someone, but I do it every day.  If you feel stressed about choosing your social and educational home for the next four years, it means you are taking the decision seriously.  It also means that you are using this time to weigh the pros and cons of each school, consider all of your options from every angle, and mentally place yourself at each institution in an attempt to see which of these spectacular choices will get you where you want to be four, ten, and thirty years down the road.
I hope, however, that you are having fun with this decision as well.  No matter where you end up going to college, guess what – you're going to college!  The next four years of your life will be truly transformational regardless, and the fact that you get to decide where and with whom that transformation will happen is going to make the experience that much more rewarding.
In order to help make this joyfully stressful decision a little bit easier, we would like to present "Why VU? Edition 2K13."  Over the next couple of weeks, you will hear a little bit less from us and a little bit more from a few of our remarkable current students on how they made the decision to enroll at Vanderbilt.
Our first post comes from Greg Hawley, a sophomore from Winnipeg, Canada majoring in Medicine, Health and Society and Spanish, both in the College of Arts and Science.
What were your deciding factors in choosing to enroll at Vanderbilt?
Vanderbilt originally appealed to me because of its incredible academic reputation and opportunities to gain exposure to the field of medicine. However, Vanderbilt offered me so much more than just top-ranked academics, which helped set it apart from the other institutions I was accepted to. Vanderbilt's incredible financial aid system – Opportunity Vanderbilt – allowed me to attend the university. When I read the list of student organizations, I realized that Vanderbilt had specific groups that catered to all my interests (and that in fact, there were too many groups I was interested in). Most importantly, I realized that Vanderbilt offered me an incredibly balanced life in terms of academics, social life, and campus involvement, and that I wouldn't be able to find a more perfect balance anywhere else.
What surprised you about Vanderbilt?
What surprised me most about Vanderbilt was how quickly I was able to get involved on campus. That was one of the most important deciding factors in coming, and it was only fitting that I was already on the executive board of a student organization by the time first semester ended. I was not only surprised by the scope of involvement that was possible (I was in way too many organizations for the amount of time I had available) but also the depth of my involvement.
Tell us about one or two significant academic experiences you have had here at Vanderbilt.
This past February, I became a published author on a scientific paper. I have been doing research in a bone biology lab in the Vanderbilt University hospital for the past two years on a volunteer basis. My time in the lab was spent primarily taking x-rays (of mice), administering drugs, and analyzing the data. Finally, all of the measurements I had taken were synthesized into a paper, and I was included as the third author. Now I'm working on my own, and hoping to be the first publishing author soon!
Last semester, I enrolled in a class called Spanish for the Medical Profession. One component of the class was to do "service-learning," and one of the options was to shadow a Spanish interpreter at the hospital. I spent over 20 hours that semester shadowing a variety of different interpreters. I got to be in the emergency room, the ICU, and the neonatal care unit, amongst other units. It was a great way to see a class being applied to real-world situations.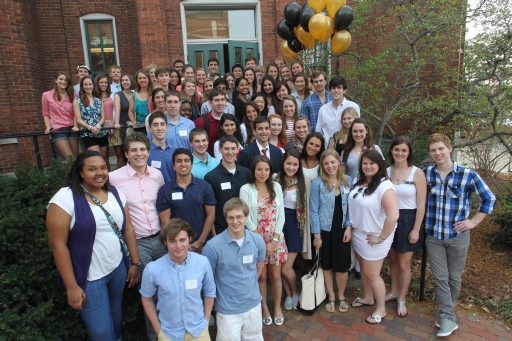 Tell us about some opportunities you have taken advantage of outside of the classroom while at Vanderbilt.
I have been able to take advantage of a wide array of activities outside of the classroom during my time at Vanderbilt. I have been involved with Global AmbassaDores so that I can work to recruit more international students to come to Vanderbilt. I am a returning Student VUceptor, MOSAIC Executive Board member, and board member for the Vanderbilt Cancer Society. I also have the fantastic opportunity to work in the Office of Undergraduate Admissions and just recently became a Vanderbilt Tour Guide (congrats, Greg!). Finally, I am a proud member of Sigma Nu Fraternity. It's safe to say I keep myself busy enough to stay out of too much trouble.
What is your favorite thing about living in Nashville?
My favourite thing about Nashville is the diversity of the city. Downtown Broadway is a short trip from campus, always packed and featuring local musicians. Hillsboro Village is right on the edge of The Ingram Commons and has some of the best food in Nashville. The city has two Big Four teams – the Titans and the Predators – and tickets are reasonably priced. There's never a shortage of things to do off campus, and there are so many different things to do that you'll never get bored!
If you could give one piece of advice to high school students making their college decision, what would it be?
If I could give one piece of advice to high school students, it would be to really consider what you want to be involved in on campus outside of academics. That's not to say that academics aren't important, but rather that your college experience will be impacted just as significantly by what happens outside the classroom. I knew that I wanted to be extremely involved on campus outside the classroom, both in organizations and socially, and I knew that choosing Vanderbilt would be able to offer me these opportunities.