Sounds of the City: What We're Listening To
With Vanderbilt's annual pre-finals soiree Rites of Spring and the internationally celebrated Record Store Day barely in our rearview mirror, we figured it's time for another breezy post wherein we share the music that's currently providing a soundtrack for various admissions staff members and student bloggers. The selections provided aren't scientifically representative of Nashville per se – I just email everyone and they reply with their selections – though I can't help but notice the list says something about the wide mix of tastes within our small sphere, and how those are informed to some degree by where we live. Many of the artists below have played Nashville or are even from here, or perhaps recorded or wrote within Davidson County. These are good days to live in Music City.
As in the inaugural post, the format is as follows: Artist, Album or "Song Title" – Short Explanation (of why we're spinning any given tune at the moment). Let us know what's providing the soundtrack to your life in the comments below!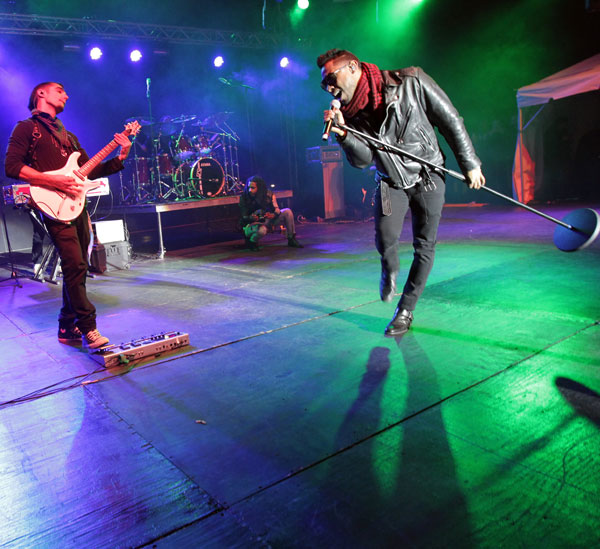 Luke Anapolis, Inside 'Dores Blogger (College of Arts and Science, 2014)
Lana Del Ray, Born to Die – What's not to love about this up and coming music star? Lana Del Ray writes beautiful, yet mysterious and eerie music, which leaves you craving more. Definitely a great summer album!
Explosions in the Sky, The Earth is Not a Cold Dead Place – I started listening to Explosions in the Sky because they are very similar to my favorite band Sigur Ros. All of their music is instrumental (no there's no lyrics to sing along with), but it makes for beautiful, unique, and inspiring study music to get keep you grooving for finals!
Sarah Quin, Assistant Director
Ellie Goulding, Lights – Because when is indie/synth-pop NOT appropriate??!!!
Robyn, Body Talk – Who doesn't enjoy a favorite artist from their childhood coming back 10+ years later with awesome, danceable jams?!
Julianna Staples, Assistant Director
Kacey Musgraves, Same Trailer Different Park – Kacey is awesome and writes my life.
Ricky Thrash, Assistant Director
Kendrick Lamar, good kid m.A.A.d city – Because it's the most gripping album I've heard in years.
Frank Ocean, channel ORANGE – It's so smooth … and so weird in the best way possible.
Lauryn Hill, The Miseducation of Lauryn Hill – Because, for me, the classics never die!
Stevie Wonder, Songs in the Key of Life – It reminds me of home. Side note: the song "Knocks Me Off My Feet" is literally the greatest love song of all time. #IMO
http://youtu.be/advZd2PWxRw
Harper Haynes, Senior Assistant Director
Kacey Musgraves, "I Miss You"
Lindsey Holden, Admissions Counselor
Emeli Sande, Our Version of Events – The album is upbeat and a little laid back, which is perfect for spring!  The songs "Heaven" and "Next to Me" are on repeat.
John Nesbitt, Senior Assistant Director
Hello from the streets of Abu Dhabi, where I am currently in between high school visits on the other side of the world and this is what I am listening to today:
The Beatles, Abbey Road, "The End" – Because there are two kinds of music, the Beatles and everything else. This song finishes a true album where each song is perfectly placed. "The End" is the final song recorded by the Fab 4 and what an exclamation point and coda for our Liverpudlian friends.
Sufjan Stevens, All Delighted People (EP), "All Delighted People (Classic Rock Version)" – Sufjan's homage to Paul Simon is easily one of my favorite songs ever.  Why you ask? Most likely due to the fact that every time I listen to it I hear something new and find new meaning.
Ryan Burleson, Interactive Project Strategist, Editor
Balmorhea, Stranger – As with most people, my taste shifts with the seasons and even within the day sometimes. Whether it's the slow creeping of Spring or various life changes going at the moment, I'm finding that instrumental music provides an appropriate soundtrack to my days right now. Balmorhea is comprised of friends of mine from Austin, TX, who make gorgeous, pastoral music in a variety of contexts: They can go really soft or really loud and it all works in equally majestic fashion.
Four Tet, There is Love in You – This record is also vocal-less and would classify as another meditative effort, though Four Tet is less classically-influenced and more focused on rhythm. There is Love in You is a subtle electronic album that packs a disproportionate amount of emotional punch. Play it in your car when you need to think or simply want to drift elsewhere.
Daft Punk, (Everything) – When I don't feel like drifting into the ether, I feel like drifting to the dance floor. Or bobbing my head incessantly wherever I go. The French dance masterminds Daft Punk make music that seems to make sense for me only 2PM and after, whether I'm on the beach, driving around on a sunny day in Nashville, or hosting friends on the porch. DP's just-released "Get Lucky," the first single from their much-anticipated Random Access Memories, is practically an update on Thriller-style pop, a blast and an inspiration simultaneously. Stop reading and add it to your summer playlist now.
Ryan Higgins, Content Editor, Inside 'Dores (Peabody College of Education and Human Development, 2013)
Fun., Some Nights – Chill enough for study music, but interesting enough to keep me awake.
Mumford & Sons, Babel – Because I just can't stop.
Nicki Minaj, "Starships" – My guilty pleasure
Ashlin Philip, Inside 'Dores Blogger (College of Arts and Science, 2014)
Drew Holcomb and the Neighbors, The Wine We Drink – Inspired by my recent Rites experience, this song is so darn cute and has the perfect study music vibe for me!
Mat Kearney, All I Have – Again, inspired by my recent Rites experience—it's a fun little song that I play over and over again. I call it study music but I usually find myself singing along rather than doing work. Oops.
Andrew Belle, All those Pretty Lights – Going with a cutesy vibe here, as you can see. I heard this song about a year ago but it's the perfect sing-along, feel-good song.
Alex Hershberger, Student Systems Analyst
Loma Prieta, I.V. – It's pretty hard to describe Loma Prieta, especially on I.V. They bounce between melody and dissonance quite frequently and most of the songs are jarring. It's like I'm just discovering punk again.
Norma Jean, Bless the Martyr and Kiss the Child – Whenever I'm nostalgic for the music of my youth I either put this or As I Lay Dying's Frail Words Collapse – this time Norma Jean triumphed.
Old Gray, An Autobiography – I never thought I would be listening to an album that is partially spoken word, but Old Gray does a great job of blending multiple vocal styles into some of the most emotional music I've listened to in a long while.
Circle Takes the Square, Decompositions ­– I honestly forgot I ordered this record; it took so long to release that I was genuinely surprised to see it on my doorstep this week. But am I glad that it arrived. Nearly eight years since their last full-length release, it's great to see that a band can get right back into their old groove.
Eileen Robinson, Co-Editor-in-Chief, Inside 'Dores (College of Arts and Science, 2014)
Macklemore and Ryan Lewis, The Heist – The geniuses behind "Thrift Shop" created a fun album (favorites include "Can't Hold Us" and "Cowboy Boots") with some deep material too (check out "Same Love").
Selena Gomez, "Come & Get It" – This song is super catchy and a good dance break from studying.
Jessica Forinash, Senior Admissions Counselor
Alabama Shakes, Boys & Girls – Brittany Howard's gritty voice is just amazing.  I can't get enough of them.
The Lumineers, The Lumineers – I love their laid back songs.
Justin Timberlake, Suit &Tie (featuring JAY Z) – There will always be love in my heart for JT.
Caitlyn Durning, Inside 'Dores Blogger (College of Arts and Science, 2014)
The Hives, Lex Hives–This Swedish garage rock is my amped-up study music (AKA what I listen to when studying for anything remotely urgent or when I need an extra boost without consuming any more caffeine).
The Beach Boys, "California Girls"–This song reminds me of sunny California summer days and going to Disneyland and California Adventure when I'm home.  With only two weeks 'till I'm back in the Golden State, I listen to this on repeat!
http://youtu.be/boVY83PQvX8
Cassandra Mychajlowycz, Inside 'Dores Blogger (Peabody College of Education and Human Development, 2016)
P!nk featuring Nate Ruess, "Just Give Me A Reason" – I have always loved P!nk's spunky style and incredible voice.  Nate Ruess (lead singer of Fun) has also recently been on my radar as an incredible performer.  This song combines the two together to produce a gorgeous and empowering love ballad, complete with beautiful harmonies and strong vocals.
Priyanka Aribindi, Inside 'Dores Blogger (College of Arts and Science, 2016)
Drew Holcomb and the Neighbors, "Fire and Dynamite" – These guys set a perfect tone for the second afternoon of Rites of Spring, and this song was one of my favorites from their set. Drew and Ellie are such an incredible duo and their band is one of Nashville's best.
Humming House, "My Love (Justin Timberlake Cover)" — I'm clearly in a little post-Rites daze right now, but this may've been my favorite performance of the whole weekend. To my knowledge it's not currently recorded (I've been watching the same video of their set on Facebook for the past 3 hours), but lead singer Kristen Rogers makes the poor audio quality worth it.
Hoodie Allen, "Joy & Misery" — I'm all about binge-listening, and this two-verse rap is perfect to throw on repeat for a little while studying. Plus, the Florence + The Machine sample is to die for.
Maria Ornelas, Senior Assistant Director
Muse, The 2nd Law – As a die-hard Muse fan, I think the new album keeps true to the electronic/alternative style which they are known for.
Thousand Foot Krutch, "War of Change" – Having Sirius XM in your rental car introduces you to some great artists you may not have heard of.
Rani Banjarian, Inside 'Dores Blogger (College of Arts and Science, 2016)
P!nk, The Truth About Love – I just recently discovered this little gem. Study music galore!
Melodores, Encore – The amount of work and talent put into this is phenomenal. I can't wait till I play a more active role in the CD-making process!
Carolyn Pippen, Admissions Counselor, Editor
Mariah Carey, Daydream – An icon at her best, and an infallible mood-booster.
Macklemore, The Heist – "Can't Hold Us" almost makes me want to buy the new version of Outlook.  Almost.