7 Lessons Learned from "Admission" the Movie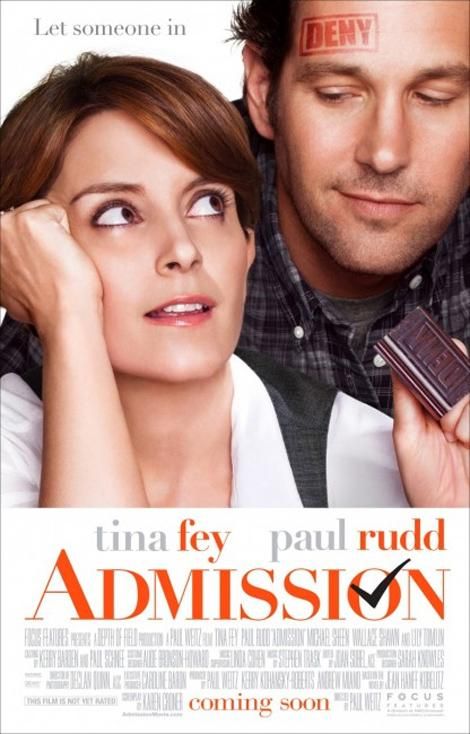 Last week, I went to see the new Tina Fey movie Admission, in which she plays an admissions counselor going through a recruitment and application cycle at a highly competitive university.  My original intention was to write this post as a Fact v. Fiction piece, pointing out all of the ridiculous liberties that were taken by the filmmakers to make the college admissions process look as scary as possible and let all of you know how things really are here at Vanderbilt.
Of course, some such liberties were taken: There is no "DENY" stamp or whiteboard of angry parent quotes, our office does not live and die by our university's U.S. News and World Report ranking, and we do not keep our final admissions decisions in an Excel spreadsheet on the director's desktop.  These things aside, I was pleasantly surprised at how many truths about the admissions profession came through in the film and resounded with my own two years of experience here at Vanderbilt.
Truth #1: Travel season is crazy and unpredictable, in the best way possible. In an effort to recruit a diverse and dynamic freshman class year after year, we travel to all types of schools, speaking to high school students and counselors, and spreading the word about what our institution has to offer.  Sometimes this means going beyond city limits, driving down winding roads or across fields, and ignoring my GPS when it tries to tell me that a building simply does not exist.
Truth #2: Admissions counselors are human, too. As you know, we each serve as application evaluators and advocates for the students in our respective territories.  After reading our students' files and finding out all of the wonderful things they have accomplished both in and out of the classroom, most of the time we really want them to end up on our campus in the fall.  Sometimes this works out, and sometimes it doesn't, which means the admissions counselor, not just the student, is often very disappointed by an unfavorable decision.
Truth #3: The students get us through it. Life happens to all of us – whether it's a sudden illness, the stress of juggling multiple tasks, a particularly gloomy day, or your long-time boyfriend leaving you for an obnoxious blonde in the English department (as in the movie).  At the risk of sounding sentimental, however, none of these things are any match for the privilege of meeting a group of incredibly intelligent and interesting students, hearing their passion for pursuing an education at the school you represent, and giving them the shot at this experience that they truly deserve.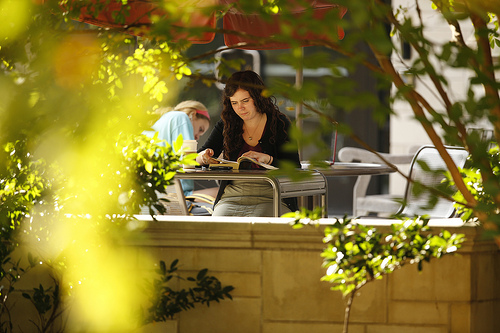 Truth #4: We are looking for students who love learning for its own sake. College is not simply a place to make connections and build a resume (though it can certainly serve those purposes well) – it is also a place to stretch the limits of your own knowledge and explore academic areas that may or may not be directly relevant to your eventual chosen career path.  We look for and value this passion for learning in the selection process, and our esteemed faculty do a fantastic job of capitalizing on this passion once students arrive on campus.
Truth #5: Many of you have it more together than I do. As the competitiveness of our applicant pool continues to increase, I am more and more impressed by the remarkable things you all have accomplished in your high school years.  Between the stratospheric test scores, the national championships, the founded nonprofits, the part-time jobs, and the hundreds of hours of meaningful community service, you often put into perspective my ability to watch Psych and answer emails at the same time, or cook the world's greatest meatloaf.
Truth #6: "If this is the right place for you, this is where you will end up." One of the most important factors in any college search process is the idea of "school fit," and we take this idea very seriously here at Vanderbilt.  We are not just looking for the 1600 best testers in the applicant pool, but for the students who we think are the most likely to succeed within and contribute to our specific community.   A student who is a great fit at Vanderbilt may be less so at another equally competitive university, and the reverse may also be true.
Truth #7: "There is no secret formula to getting in." If there was, I would have sold it Arthur-Slugworth-style and moved to Aruba months ago.  The truth is, by the time you apply, everything you need to do in order to be admitted has already been done or not.  The only part left is to be clear, be comprehensive, be honest, and be you.
As I'm sure you have heard, we recently mailed decision letters to all Regular Decision applicants for the class of 2017.  As some of you are receiving your decisions and celebrating your many offers and others look forward to starting your own application process in the future, I hope that these truths can serve as a window into the process we have been going through over the last several months.  As always, please feel free to send questions via this blog or reach out to your admissions counselor at any point – we are here for you!