Victory in Music City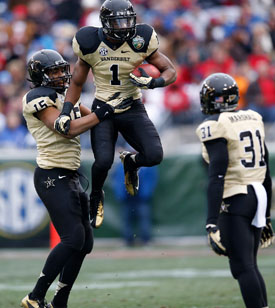 There's something magical about New Year's Eve.  Beyond the sparkly dresses and fancy parties and flutes of expensive champagne – or in my case, pajamas and hot chocolate and episodes of the West Wing – New Year's Eve is all about endings and beginnings.  Reflecting on the past, celebrating our accomplishments, and looking to the future with a determined sense of promise.
On Monday morning, our Commodores took the spirit of this day to heart, ending their exceptionally successful season with a win in the Franklin American Mortgage Music City Bowl and marking the beginning of a new era in Vanderbilt football.
The 'Dores' 38-24 victory over the North Carolina State Wolfpack was their seventh straight, topping off the longest current winning streak in the Southeastern Conference, and their ninth of the season, making 2012 the program's winningest year since 1915.
In the name of tradition, and perhaps a bit of superstition, I attended the game with the friends I brought with me to the 2008 Music City Bowl, when the Commodores beat Boston College 16-14.  This year's win was much more decisive, as Vanderbilt's suffocating defense made three interceptions and recovered two fumbles to spur the 'Dores to victory in front of an overwhelmingly Black and Gold crowd of over 55,000.
Senior running back Zac Stacy was named the game's MVP after rushing for 107 yards, the most in Vanderbilt bowl game history, and extended his school record of 3143 career rushing yards.  Junior wide receiver Jordan Matthews extended his own school record of 1323 receiving yards, and his seven catches gave him 94 for the season, the second most in SEC history.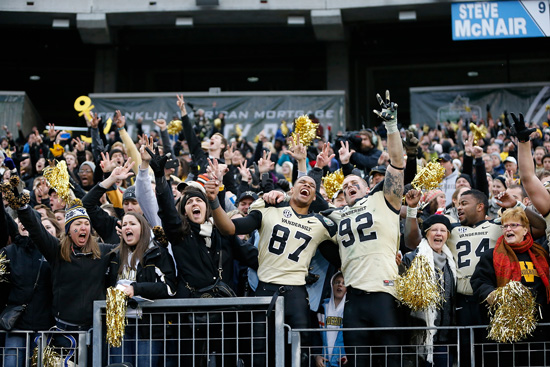 Vanderbilt's loyal fan base came out in droves, despite the freezing temperatures and sporadic rain, to cheer the Commodores on to victory.  The school's initial ticket allotment was gone within three days of the bowl announcement, and the official alumni tailgate sold out almost as quickly.  In his emotional postgame press conference, Coach James Franklin thanked the Commodore faithful and the city of Nashville for supporting his team and the remarkable turnaround his program has seen over the last two years.
(Check out this part of the press conference for a great moment between Franklin and a long time Commodore fan.)
Topping off this year, and a season in which Franklin and his players likely broke some kind of record for the most records broken, with a resounding bowl game victory felt a lot like a perfect ending.  Now we look to the future.  We are 33 days away from National Signing Day, and ESPN currently ranks Vanderbilt's 2013 recruiting class as the 16th strongest in the nation.  The 'Dores will open next season at home against Ole Miss on August 31.
To the newest members of the Class of 2017, we look forward to seeing you there.  In the meantime … Anchor Down!