Early Decision I Decision Letters Mailed
We work in cycles as admissions professionals. Each fall brings its own surprises and new developments, of course, and no one applicant pool (or application for that matter) is the same as the next. But, generally speaking, each cycle ebbs and flows with relative consistency: We travel, we read, we host prospective students and families, we read some more, and then we get together for hours and days on end to decide who will be the first to join the next class of Commodores. (I'm simplifying for the sake of efficiency – we do lots of other things too, like brag on these guys, for instance – but you get the drift.)
This last piece is what defined the last several days in our office as Early Decision I decisions were made with much diligence, patience, and the aid of many gallons of caffeine. The quality of applications reaching Vanderbilt's doorsteps these days demands nothing less, nor does the integrity of the wider Commodore community that new admits will join. And these decisions get tougher as the sheer number of apps climbs too. But, as Senior Associate Director of Admissions Thom Golden mentioned to me in passing last week, "this process is absolutely a labor of love."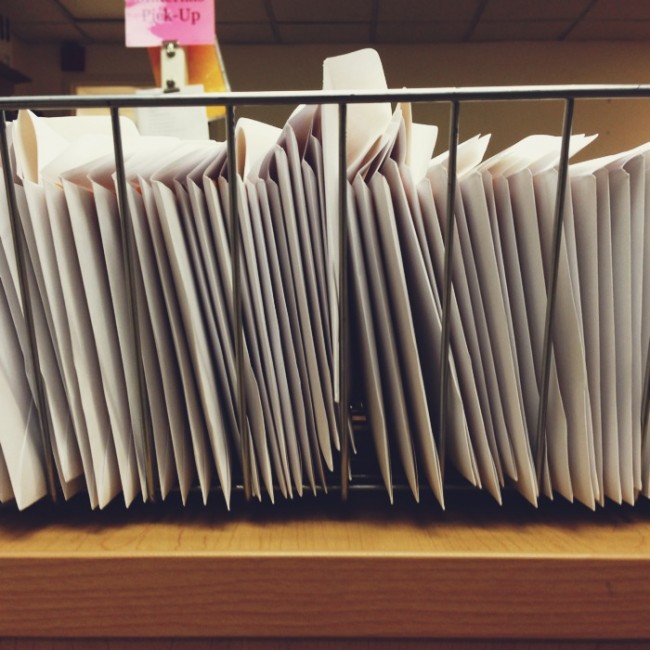 A few days removed from that weary yet blithe exchange, we are ready to approach the next milestone in our cycle: mailing decision letters to the first members of the Class of 2017, Vanderbilt's most academically qualified and diverse EDI class yet. A full overview of the Early Decision class will be released in tandem with EDII decisions being mailed in February, but suffice it to say that this applicant pool was nothing short of phenomenal. Our team found inspiration around every corner of the reading and decisioning process – whether in tried and true academic metrics, service-oriented endeavors, or the incredible stories underpinning so many of your journeys.
The bittersweet part of this day is in sending letters to those who won't receive an 'admit' decision. Most applicants to Vanderbilt could successfully handle the rigor required of our student body (hence why the selection process is so difficult), but our policy of bringing approximately 1,600 first-year students to The Martha Rivers Ingram Commons each fall necessitates that we turn down fully capable individuals in the process. If this is you, we hope you won't see our decision as a rejection, but rather as an opportunity to thrive elsewhere. Everything we read and debated over in this cycle's applications indicates that no one in this pool should do anything less than amazing work no matter where they attend.
A few housekeeping items before concluding:
Applicants living outside the U.S. should receive their decisions via email on Thursday, December 13.
In the unlikely event that applicants don't receive their decisions by mail, they may receive their decisions via phone on or after Tuesday, December 18.
Thanks to everyone who applied as part of this extraordinary EDI pool, and again, congrats to the newest members of the Class of 2017!