What's Your Story?
An exciting project long in the making finally made its debut on Vanderbilt's campus this week. Story Booth, a joint endeavor between several university partners (including Undergraduate Admissions) and the Curb Creative Campus Initiative, is a mobile video booth "designed to collect and share real-time, authentic stories" from the Vanderbilt community. Students, faculty, staff, alumni, and campus visitors now have an easy and innovative way to add their voices to the larger campus narrative – to convey the "multi-faceted nature of Vanderbilt's identify," according to a recent news report.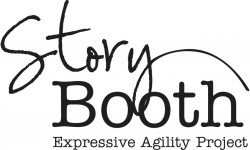 Said another way: Vanderbilt now possesses a really, really cool way for its community members to get to know one another better, as well as what makes us all key parts of the whole. By relying on one of the oldest, most effective communication mediums to exist since the dawn of mankind – storytelling – Story Booth will also enhance our ability to convey the ever-evolving Vanderbilt story to outsiders who are interested in the University for any number of reasons.
Story Booth is mobile and handicap-accessible, and features HD video recording technology. Prompted by a question posted to the outside of the unit (i.e. "Why did you choose to attend Vanderbilt?"), users will enter the booth, give a small amount of information about themselves, push record, and set off for a few minutes of reflection that could be featured on the Story Booth site, as well as various campus and social media sites. Participants will also be emailed a link to the video.
I'm excited about Story Booth for many reasons – its ability to capture Vanderbilt voices during Homecoming, for instance, or to be integrated into classroom settings when appropriate. But I'm also pumped because it will give viewers an unvarnished view of what happens here on a daily basis. I feel fortunate to be surrounded by some of the smartest, hardest working people across an array of fields (students, faculty, staff, and researchers alike), and Story Booth will give them a platform to speak authentically about days and experiences both great and tough – and how they pulled together to get through them all. Vanderbilt's legacy demands no less and neither do our readers.
Learn more in the teaser video below. And have a great week!