Naming the College Halls
Here at Vanderbilt, we talk a lot about what's new.  Our students are constantly creating new knowledge through academic research, forming new relationships, fostering new on-campus initiatives, and reaching new heights of excellence in the classroom, on the athletic fields, on campus, and in the local and global communities.   It is important to remember, however, that we would not be able to move in these new and exciting directions without the historical foundations set by those who came before.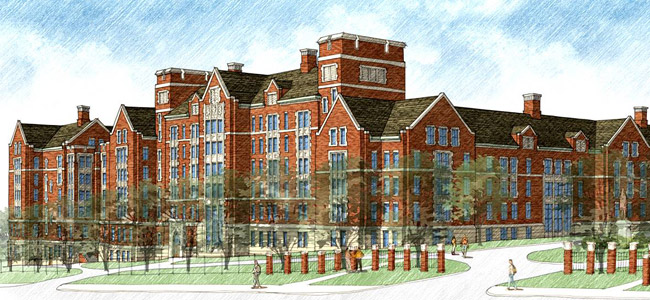 This combination of honoring the past and celebrating the future was exemplified last week when Vanderbilt's Board of Trust voted to approve the naming of our newest on-campus living learning communities, the College Halls.  As I shared earlier this year, we officially broke ground on these upperclass residence halls in May, and they will be open for business in fall 2014 (which means the high school seniors applying right now will be among the first to live there!).
The new community will consist of two "Colleges," each of which will be divided into two "Halls."  The two colleges will be named Moore College and Warren College, and the four halls will be Rice Hall, Smith Hall, Elliston Hall, and Delbruck Hall.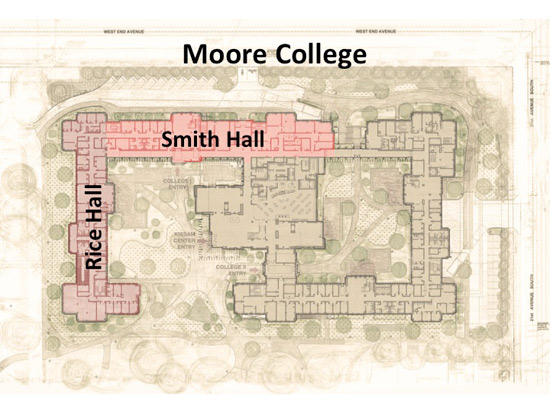 Moore College honors Stanford Moore, a 1935 Vanderbilt graduate and visiting professor at the School of Medicine who shared the Nobel Prize in chemistry in 1972 for his research on the enzyme ribonuclease.  Warren College is named for Robert Penn Warren, a 1925 graduate who was the youngest member of the group of poets called the Fugitives, and who later won two Pulitzer Prizes for poetry and was named the 1986 poet laureate.  (The college will not be our first homage to this renowned figure; the Robert Penn Warren Center for the Humanities on campus fosters interdisciplinary research and study within the humanities and social sciences.)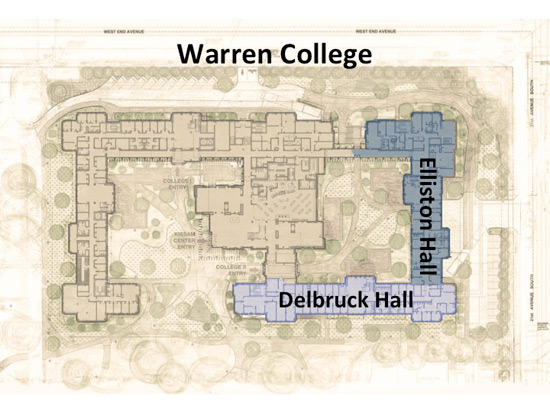 Rice Hall, one of the two "neighborhoods" within Moore College, honors Henry Grantland Rice, who graduated from Vanderbilt in 1901 and went on to become one of the most famous sports writers in the country.  You may know him as the namesake of Bill Simmons's Grantland.com, and the Fred Russell-Grantland Rice Scholarship is awarded yearly to incoming Vanderbilt students interested in pursuing a sports journalism career.  Smith Hall is named for Kelly Miller Smith, a leader in the civil rights movement who worked to end segregation in Nashville and served 16 years as the assistant dean of the Vanderbilt Divinity School.
Within Warren College you will find Delbruck Hall, named for Max Ludwig Henning Delbruck, a German-American physicist who served on Vanderbilt's faculty from 1940 to 1947 and shared the Nobel Prize for Physiology or Medicine for his research on random mutations in bacteria.  Elliston Hall honors Elizabeth Boddie Elliston, a Nashville community leader who donated part of her own land to form Vanderbilt's campus in 1873 and co-founded the Vanderbilt Aid Society, which provided the university's first form of financial aid to incoming students.
These six historical figures represent the spirit of academic freedom and discovery, leadership, community, justice, and compassion that continue to drive the work of our students and faculty today.  It is only fitting that their names and stories will adorn the homes of the renowned researchers, professors, activists, poets, and philanthropists of the future.