Current Students, Standing By
We put a lot of emphasis on the role of counselors in the world of admissions, and rightfully so. More than anyone else in our office, these men and women make telling the Vanderbilt story the priority of their professional lives. They travel far and wide for months at a time, and spend countless hours back at the office planning events, giving presentations, and meeting with families who have questions. They also lead the application reading process, which gets longer each year as submissions to Vanderbilt continue to steadily rise.
But as we've mentioned before when talking about Inside 'Dores, there is a line in the sand each counselor faces that's merely a function of the role – one that only a current student stands across, and on that other side is where you'll find a wealth of knowledge that can't be conveyed by anyone except those living the Vanderbilt experience right now. It's true that many Vanderbilt admissions counselors are alumni, and thus can speak to the past Commodore experience in vivid detail. (And there's a powerful message inherent in the act of graduating and going straight to work for your alma mater.) But you shouldn't underestimate the experience of someone who is close to your age, who weighed the very pros and cons you did as little as two years ago, and who is now a student at a university you consider a potentially good fit.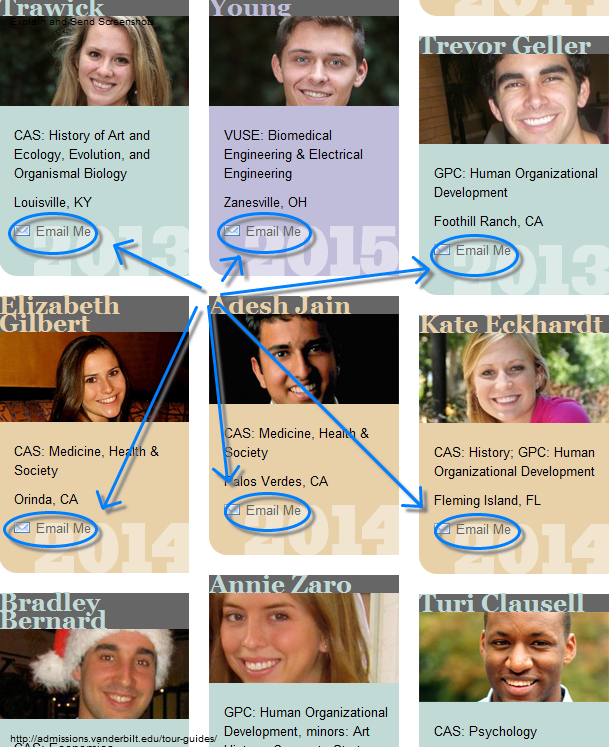 This is why we don't look at our Tour Guides, Global Ambassadores, and Inside 'Dores as mere supplements to the role of the counselor. We've made them visible, intentional pieces of the organization structure of our office, and they've been empowered to speak on our behalf. (The same should be said of our student workers, who answer emails, phone calls, and assist on social media accounts.) Moreover, their roles aren't confined to simply answering questions – the great majority of their time is spent engaged in the specifically-assigned activities, be it leading campus tours, serving as liaisons to the international student community, or blogging about life as a Commodore.
There are certainly admissions-related topics more appropriate for a counselor conversation, but we encourage you to reach out to our student representatives for questions regarding just about everything else – dining, student organizations, academic classes, and diversity on campus are just a few of the wide array of subjects these students are eager to discuss with you. Or maybe you just want to know what it's like for a student from the Pacific Northwest (or Latin America or India or anywhere else) in the South. (A teaser: Non-southerners almost always find Nashville to be far more culturally and artistically diverse than what the prevailing mentality might indicate. Why do you think The White Stripes' Jack White or The Black Keys moved here? It wasn't to play the honky tonks downtown or to write songs for Taylor Swift, though I'll note, there is nothing wrong with Lower Broadway or T-swizzle. And rock music is just one of several ways Nashville manifests its many colors.)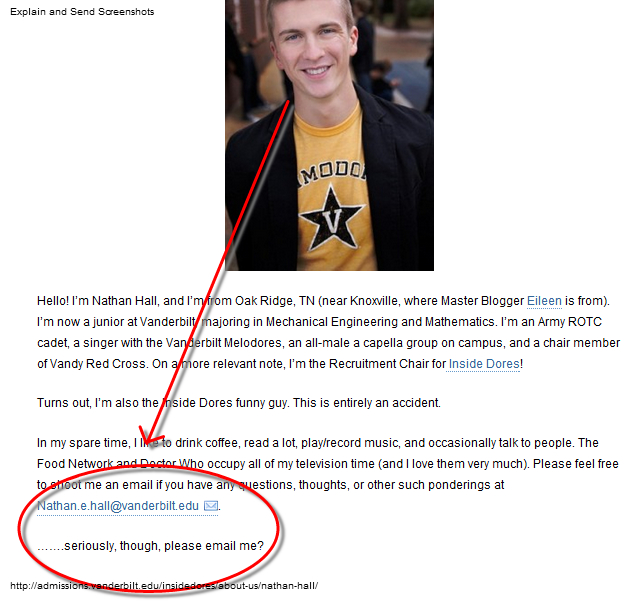 So when you think about reaching out to our office, we hope you'll seriously consider directing some of your non-admissions-y questions to our student representatives. These students stood out in auditions of one form or another for many reasons, not the least of which includes the way they've thrown themselves into the entirety of the Vanderbilt experience. They want to soak up every second of their time in college, and have found that Vanderbilt is the perfect place to do just that. Let them relay their unique experiences to you as you evaluate your fit at various institutions such as ours.
We hope you'll contact our students soon: