Football Commodores are Ready to Anchor Down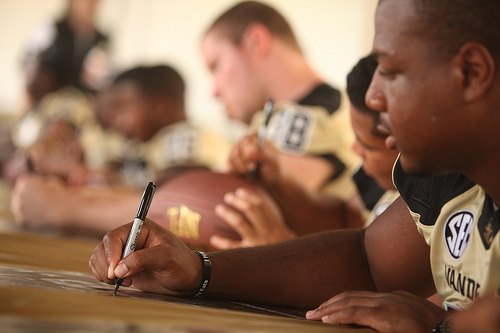 Fun fact about myself: I love fall.  I don't mean I love fall like I love that funny video my mom just sent me or the dollar I found on the ground this morning.  My love for fall is deep, meaningful, and everlasting.  Fall means cooler weather, changing leaves, new episodes of "Psych," two of my favorite holidays, a good hearty chili, and, above all else, college football.
With the impending return of Vanderbilt students onto campus this week and the Commodores' first 2012 matchup at the end of the month, it's time for a good old-fashioned football preview.
One of the most important elements of any athletic season is the excitement carried over from the previous one.  In 2011, the football Commodores finished with a 6-7 regular season record that included dominating victories over fellow SEC teams Ole Miss and Kentucky, and the team earned the chance to compete in the program's second bowl game in three years.  From the moment he arrived, new head coach James Franklin sparked a level of passion and enthusiasm in Vanderbilt fans that has spilled over into the coming season.
This past February, Franklin hosted a university-wide signing day event for a packed house in the Student Life Center.  Fans were introduced to new faces and future stars like running back Brian Kimbrow and linebackers Darreon Herning, Jake Sealand, and Stephen Weatherly, all of whom were rated by ESPN as four-star recruits.  Sports Illustrated later called this group the best recruiting class in the program's 122-year history.
(Another symptom of success in the world of college football is the improved state of next year's recruiting class, and with 19 current commits, Vanderbilt ranks 15th nationally in Rivals' class rankings for 2013.)
Signing Day marked the beginning of a series of events that has built eager fan anticipation (fan-ticipation?) over the last several months.  Work began at the beginning of the summer on improvements to Dudley Field, including new turf, an added general admission seating area, and this monstrous video board.  In July, Coach Franklin and his 'Dores unveiled the new football uniforms during a special promotional event at the campus bookstore.  The team has been preparing on the field in the meantime, and Franklin awarded two hardworking walk-ons with full scholarships this week.
(Warning: This video just might make you cry.)
The Commodore faithful are responding to the excitement in droves. By May, season ticket sales for 2012 had already surpassed totals for the entire 2011 campaign, and the numbers have been growing ever since.  So what are these season ticket holders and Vanderbilt students in for?  The 2012 schedule includes six home games, four of which will see conference matchups against South Carolina, Florida, Auburn, and in-state rival Tennessee.  The 'Dores will travel to Columbia in October to meet Missouri, one of the newest members of the SEC, and Homecoming will take place on October 27th against Massachusetts.
For more updates on the upcoming season and all things Commodore football, follow @jamesfranklinvu and @VandyFootball on Twitter, and be sure to tune in to ESPN at 6:00 PM CT on August 30th for the nationally televised season opener against South Carolina.
Go Commodores – Anchor Down!