Presenting Your 2012 Commons Cup Victors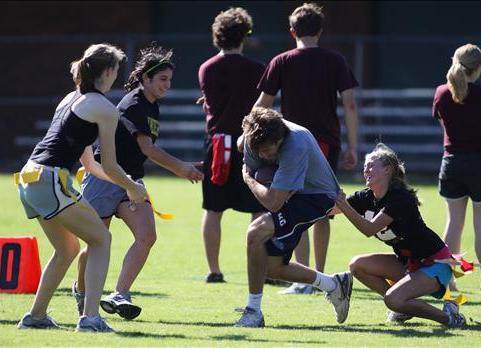 Throughout your life, you will face many different types of competition: the character-building competition of an intense athletic event; the ambitious competition of applying to a highly selective university; the cut-throat competition of a board game with your little sister who doesn't understand what "no sounds" means in a simple round of Pictionary.  Considering Vanderbilt's participation in Division I athletics, current Commodores are not immune to the emotional intensity and joyful celebration that a healthy amount of competition can bring.
In The Martha Rivers Ingram Commons first year student community, there is a different type of competition happening: the kind of competition that breeds teamwork and solidifies social and academic communities.  Since the establishment of The Ingram Commons in 2008, freshmen have participated in one of the university's newest traditions, The Commons Cup.  While similar in many ways to another Cup you may be more familiar with, ours is not awarded for broom-flying skills or vanquishing dragons.  Instead, The Commons Cup is awarded each year to one of the ten houses on The Ingram Commons for the embodiment of five community values:
Academic achievement is assessed by comparing the average GPA of each house's members as well as placement in two academic competitions that occur at the end of each semester.  The Knowledge Bowls are Jeopardy!-like contests that test students' knowledge on everything from art and literature to current events and sports trivia, and every house nominates a team of 3-5 first-year students to compete.
Aside from providing Vanderbilt's freshmen with a unique living learning community, The Ingram Commons also serves as Tennessee's largest collection of LEED-Certified green buildings.  Energy conservation is assessed monthly for each house based on its past usage.  Because the students are, in a sense, competing with themselves, they must find more creative and effective conservation strategies as the year progresses.
Students are encouraged to log their own community service hours throughout the year, and the final points in this area are allotted on a per capita basis.  Hours can be contributed through any of the many different service projects available on campus, in the Nashville community, or elsewhere in the world, as long as they were completed during the academic year.  Students are expected to abide by the university Honor Code when self-reporting their hours.
The faculty Heads of House will each select two social or academic programs to serve as the designated "Cup Programs" for that house.  Points for program involvement will be awarded based on the number of residents that attend each event.  These programs may take the form of guest speakers or panels, Nashville field trips, student group performances, collaborative events with specific academic departments, anything that appeals to the breadth of interests and activities of The Ingram Commons community.
Finally, the athletic prowess of each house is measured through a variety of intramural competitions.  In-house tournaments are held to determine which teams will be entered in university-wide leagues for dodge ball, soccer, flag football, kickball, table tennis, ultimate Frisbee, sand volleyball, and tug-o-war.  Points are awarded for participation as well as for the highest finisher in each event.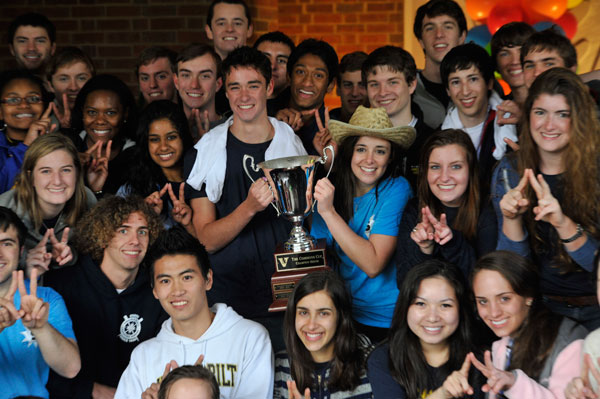 On April 22nd, the university held its annual Commons Carnival, a celebration of the final days of classes and one of my favorite events of the year.  The festivities included snow cones and funnel cakes, a mechanical bull, a performance by the Nick Carver band, a balloon artist, line dancing lessons, and a country-themed photo booth.  Most importantly, the carnival also served as the setting of the presentation of the 2011-2012 Commons Cup.  After each of the ten houses performed a previously choreographed cheer and the numbers were crunched for all five categories, Professor Greg Barz's North House reigned supreme.
Congratulations to North for their impressive victory, as well as to the other nine houses for their significant contributions to the campus community this school year.  Check out the Common Place news feed for more information on how each house closed out the 2011-12 academic year.