I'm an Incoming Freshman! Now What?
Take a deep breath, my friends, because you did it.  You attended college fairs, you visited campuses, you signed up for mailing lists and received brochures, you wrote essays, submitted applications, met deadlines, received letters, compared offers, and made the decision.  You are going to be a Commodore.
Good news: The hard part is over!  Everything that comes next is far less stressful and nerve-wracking and far more celebratory and exhilarating.  You have chosen your path, and all that is left is to find out where in this great world it will take you.
Sad news: Our role in your college selection process is transitioning.  While we in the admissions office have truly enjoyed and cherish the months (and, in some cases, years) spent working with the future members of the Class of 2016, it is time for you to work closely with many other offices and resources on campus that will help guide you through this summer and the next four years of your life.
We certainly do not want to leave you hanging, however, so we have compiled in this blog a few of the "next steps" that you should be thinking about as you make the transition from admitted students to incoming Vanderbilt undergraduates.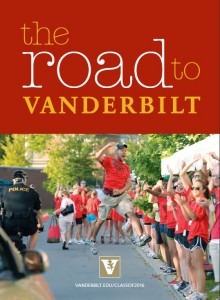 Once we have received your matriculation fee, we will send you a confirmation letter.  Soon after, a special package will begin making its way to your front door.  This package contains a magical, colorful, 70+ page, all-knowing brochure called The Road to Vanderbilt.  Do not lose your Road to Vanderbilt.  This brochure provides a wealth of information on how to prepare for your freshman year and includes detailed instructions on many of the following steps. (You can also find the links featured in the Road to Vanderbilt online.)
Soon after receiving confirmation from our office regarding your matriculation fee, you will be eligible to register for your VUNet ID and password.  The username you are given and the password you create will be required for many of the processes you must complete throughout the summer, as well as for your official university email account, so make sure you keep it somewhere safe (like inside your brain).  Students can choose to set up their email accounts through either Google or Microsoft.  Once your account is up and running, be sure to check it frequently — this is how you will receive the majority of university communications from this point forward.
With your VUNet ID and password, you now have the ability to sign up for housing.  All incoming freshmen will be assigned randomly to one of ten houses on The Martha Rivers Ingram Commons.  Make sure to fill out your housing application by June 1 — you will receive your assignment via mail in early August.  You will have the option of either selecting a roommate who you know is also enrolling (the other student must select you as well), or entering your name in the roommate lottery.  If you want to get a jump start on getting to know your potential future roommates and hallmates, check out the Class of 2016 Facebook page.
By the end of this month, most of you will receive a packet of instructions for fall 2012 course registration.  The packet comes directly from your undergraduate school and will contain specific instructions on how and when to register for classes, as well as how to get in contact with your adviser (registration periods will differ from student to student).  (Blair students, your packet will arrive via email.) Read the information packet front to back, and take full advantage of the resources Vanderbilt provides in this area.  The Your Enrollment Services (YES) website contains online tutorials that will help you navigate the system and your registration process.
Advice from an alum: Do not let this part of the process stress you out!  Keep in mind that the first few days of classes constitute a "change period" when students can add or drop classes if necessary, and remember that moving to a less rigorous course is always easier than moving to a more difficult one.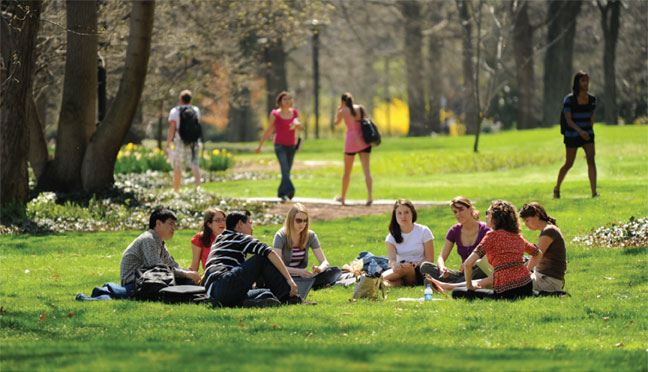 Your single most important possession over the next four years will not be your laptop, your microwave, or your mattress pad; it will be your Commodore Card.  You will use this photo ID card to gain access to your dorm and several other buildings on campus, buy your meals, enter athletic events, get student discounts around Nashville, and much more.  You must submit a photo to be used on your Commodore Card by June 22 and select a "Commodore Cash" plan by July 15.
Commodore Cash is money that can be loaded onto your card for purchasing items at the bookstore or additional food at one of our many on-campus dining locations, post office, printing stations, etc.  All first-year students will be automatically enrolled in the first-year meal plan, which includes three meals a day.  Commodore Cards can be picked up when you arrive on campus in August.
For more information on next steps for incoming students, including instructions for health insurance enrollment and deadlines for tuition and fees, give that Road to Vanderbilt a thorough read.  As I mentioned above, all relevant links can also be found on the Common Place newsfeed.
In the meantime, take a load off!  Kick back by the pool with a pair of shades and your copy of the 2012 Commons Reading.  Congratulations once again on your remarkable achievements, and make sure to stop by and see us when you arrive in the fall.