Dorms are for Sleeping, Studying and Alienating Poverty
Chances are you've heard of TOMS, the California-based shoe and eyewear company which donates one pair of those items to someone in need each time a consumer makes a purchase online or in stores around the world. Founded just six years ago, TOMS has donated over 1 million pairs of shoes and has been praised by rock stars and humanitarian juggernauts like the Clinton Initiative alike. Many of us also know TOMS because they're incredibly popular with young people on a purely aesthetic level — lunch is on me if you can cross 10 blocks in any metropolitan area or high school campus and not witness a pair or three beating the pavement.
Fashion aside, though, I do believe the success of TOMS is mostly derived from its mission as a social enterprise business. Generation Y being the service-minded cohort that they (and most of you) are, the idea that commerce and social change can co-exist is very appealing. In fact, one can drive the other, which is largely the story behind those lightweight yet hip shoes many of you may be sporting as we speak.
These world-changing ideals are thriving on Vanderbilt's campus as well. Inspired by a Human and Organizational Development class taught by Professor Victoria Davis, as well as by various mission trips to impoverished nations, senior Trevor Burbank and classmate Jason Wen created Teach Twice, a social enterprise in which stories from one culture are shared with children from another by way of picture books. The group, whose whole ethos is underpinned by the belief that everyone has a story to tell no matter their socioeconomic circumstances, hopes to enable readers to learn about new cultures and gain new perspectives while alleviating poverty and improving educational opportunities in the countries where the stories originate. For instance, the proceeds from the sale of "My Precious Name," Teach Twice's first published work, will be used to build a secondary school in the Ugandan community of Nakikungube.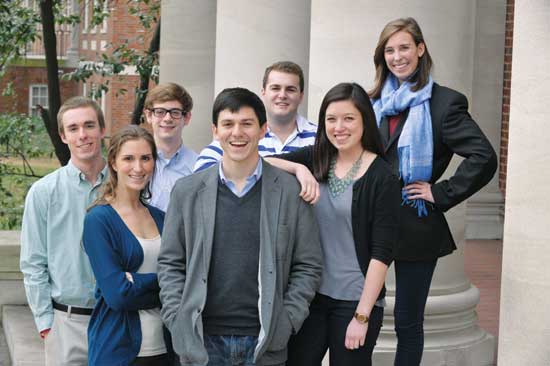 But, as this great profile in Vanderbilt View points out, Burbank, Wen and senior Scott Church, the non-profit's Director of Technologies, "also feel a responsibility to address education needs closer to home." This idea inspired the creation of Teach One, a tutoring and mentoring initiative focused on a Nashville-area high school. Teach One "serves mostly students from immigrant families … They get one-on-one homework help and the opportunity to practice their English language skills, which has resulted in better grades and more confidence in the classroom," according to Burbank. Shortly thereafter, the article goes on to mention how the Teach Twice team feels "a responsibility to step outside the bubble a bit and reinvest what we've been blessed with," an acknowledgement that the opportunity to put their dreams into action on such a big scale doesn't come around every day.
The quote sums up the mindset of so many members of the Vanderbilt student body — no matter their course of study. One need only look to the fact that a full 74% of seniors graduating in 2011 indicated that they participated in volunteer service during their time in college. It's no wonder, then, that Alternative Spring Break (which, by the way, introduced Burbank to Wen) was founded here, or that the Dean of Students houses an Office of Active Citizenship and Service, which advises over 60 student service organizations. Giving back is a potent part of the Vanderbilt Creed.
No matter the types of service endeavors our students engage in, all have the potential to make an enormous impact in Nashville and far beyond. What was sparked in the process of writing a paper led Burbank and his peers to launch a social enterprise out of a dorm room that is now receiving funding from Dell and the Owen School of Business (among other entities on campus and off), and has attracted the attention of the U.S. Departments of Education and State. Indeed, we're not kidding when we tell you that you really can change the world here.
Read more about Teach Twice in the Vanderbilt View and watch a VUCast featuring the group below.