Reflections on Vanderbilt from our Student Bloggers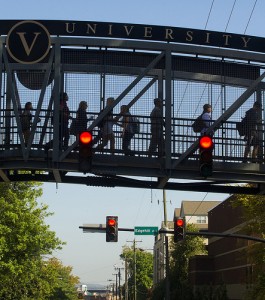 So here we are: After years of working as hard as you can to be admitted into the top schools in the country, many of you budding young scholars have a letter (or perhaps an email) letting you know that you achieved this goal. This is a huge feat no matter the year, but seems especially impressive in a cycle wherein admission rates at Vanderbilt and several of our peer institutions are at all-time lows. If you were recently admitted to one of these schools, I hope you've allowed yourself to bask in that knowledge despite the immensity of the decision many of you now face. This achievement is a major milestone no matter where you go from here.
But that's just it; many of you do have a decision to make. At this very moment, you are likely weighing any number of variables, which could be as epic as the number of prestigious awards a certain academic department boasts to something as seemingly minor as whether the dining hall is vegan-friendly. As a part-time music critic, I can tell you that it's completely OK for you to argue with yourself over the tiniest nuances — though, to be sure, deciding where you'll go to college is obviously far more important than whether The Clash nailed the drum sounds on London Calling.
While no one but you can ultimately set your course toward this school or that, we thought it could be useful to hear from our student bloggers, who in recent weeks have been writing about why they love Vanderbilt and, in some instances, why they chose Vanderbilt. So today we thought it wise to turn these digital pages over to them, who were sitting in your shoes as recently as one year ago in some cases.
Rachael Grenfell-Dexter (Guest Blogger), Nampula, Mozambique:
" … ironically, the reason I knew it would be the 'perfect fit' for me was because I knew it would be the 'perfect fit' for others. I wanted to know that I was coming to a campus with people who were different from me. There is a lot you can learn in a classroom, but I wanted to learn from my peers as well. At Vanderbilt, I constantly find myself being challenged in new and different ways, and I have grown so much because of it. Lots of schools take up the mantra 'work hard, play hard,' but I think Vanderbilt takes that to a whole new level. From my experience thus far, I can say that this campus resounds to this phrase: 'work hard, live hard.' And when I say 'hard,' I mean we live it to the fullest."
Erica Graff, Miami, FL
" … Vanderbilt is in a prime location. It is a ten-minute ride to the airport, where you can catch a direct flight almost anywhere. Vanderbilt is less than two miles away from downtown Nashville. This makes great internship opportunities, restaurants and concerts all easily accessible. Did you know that Vanderbilt is literally one street over from THE Music Row? I didn't, until I got here and ran into Taylor Swift and Blake Shelton."
Una Natterman, Bloomington, IN
" … Luckily for you, Vanderbilt is good at everything! … There isn't a single department where you won't find some very well-known, engaging, published professors with fascinating life stories. This is especially great for you if you are undecided concerning your major … Vandy really is a great institution of higher learning for academic, social, and extracurricular reasons. I didn't realize coming here that I would have as much school pride as I do."
Samantha Orland, Plano, TX
"At Vanderbilt, the size, the rigorous academics, the Nashville community, and the social life all just seemed to fit.  Coming from a thriving suburban neighborhood in Texas, most of my friends had set their hearts on big Texas public universities early senior year, but I felt that it would be good for me to take a leap and go to a school out of state, coming in with no friends.  It was not just the beauty of the campus, the draw of the HOD major, or the Southern warmth I felt at Vandy that made it my number one choice. It was the opportunities that would spring from a Vanderbilt education and the doors that would open for me later in life because I picked Vanderbilt.  Coming to Vanderbilt was a huge decision for me, but I feel über confident in saying that Vanderbilt has been the perfect fit for me thus far …"
Jae Maeng, Nashville, TN
" … I entered Vanderbilt as a pre-med student and the Vanderbilt Hospital coupled with the Vanderbilt Medical School provide some of the best places to learn in their respective categories. Between these two, the amount of research and internship opportunities is boundless … Even as a freshman, I am already involved in research at the Vanderbilt Organ Transplant Center."
Caitlyn Durning, Upland, CA
"While I was [visiting] for MOSAIC, I realized what an amazing place Vanderbilt truly is. There was so much going on on-campus and my host and everyone I met was so incredibly nice, and the campus was beautiful, and it had everything I was looking for in a school, and The Commons was definitely alluring–I could go on forever. I made friends immediately, and I thought that if I made friends this easily at a weekend where I knew no one, maybe Vanderbilt was the place I was meant to be. The MOSAIC programming was super interesting and allowed me to see what Vanderbilt is all about–something that I really needed since I had never visited before … After returning home and collecting the rest of my acceptance letters, it was finally May first. The notoriously indecisive part of me was not in a happy place. I had to choose between Vanderbilt and another of the best schools in the country.  That day, when I looked back on my visits to each school, I couldn't deny that the time I had at Vanderbilt was so much more of the college life that I was looking for–well-rounded students with amazing academic drive and an amazing social life that I didn't have to leave campus for were the final aspects that tipped the scale in favor of Vanderbilt.  Vanderbilt is a gorgeous place with amazing academics and where the students' social lives don't suffer as a consequence–it's the best of both worlds.
Chloe Stegeman, Bethlehem, GA
"Now a proud member of the Class of 2015, I am still head-over-heels in love with my decision. Nashville and Vanderbilt are the perfect combination of southern culture and rigorous academics, but above all, the collective experiences from each inspires self-growth and lessons to outlast a lifetime. … Forever a 'Dore, forever Vanderbilt."
Binh Thai (Guest Blogger), Hanoi, Vietnam
"As the university was too far for a trip to the United States, a virtual tour was probably the best way to know if Vanderbilt was the place for me to spend the next four years. I could not help being excited to see beautiful photos of the Southern scene which encouraged me to search everything about the school, such as academics and life outside class. Then I got a lovely email from a Global Ambassador from Israel offering to answer any questions I may have. My heart at that time seemed to set for the school in Nashville. The only problem at that time was that I wanted to major in engineering, but my Dad wanted me to study social science. Luckily, Vanderbilt does support an interdisciplinary education, so regardless of majors, I knew my education would not fail both of our expectations."
Evan Curran, Wilmette, IL
"Learning about The Commons experience … piqued my excitement. I had visited many schools, but none had a first year experience quite like this. Finally, I sat in on a class in the Human and Organizational Development program and I was sold. The professor took a genuine interest in my future plans (I wrote her an email later thanking her for the experience and asking one question, and she responded with a page and a half response about what HOD had to offer!). Furthermore, the students in the class were so engaged and genuinely interested in learning. Throughout the day, I could truly feel the sense of community around campus and knew it was something I wanted to be a part of … I flew home the following day and immediately filled out the early decision application. The rest, as they say, is history. I am currently in disbelief that I am almost done with my junior year, but I can confidently say choosing Vanderbilt was the best decision I have ever made."
Eileen Robinson, Knoxville, TN
"The aspect of Vandy that really won me over … was The Commons. Because all freshmen live together in ten houses, I wasn't quite as terrified about making friends or adjusting to college life. The Commons Center has a variety of food options, study spaces, and well-needed distractions (like pool and foosball tables) that are convenient to all houses. I think I even met some of my best friends playing pool…we need to do that again."