We Are the Champions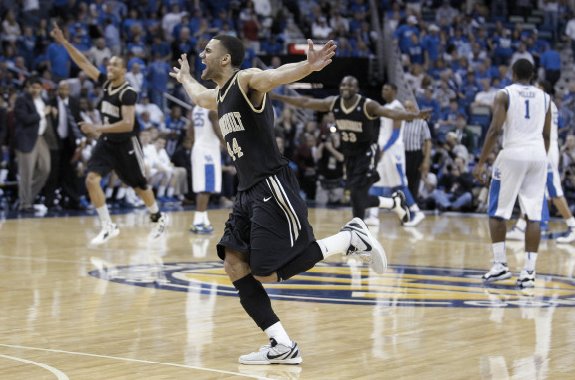 It's that time of year again, sports fans.  Nets are down, brackets are out, and the basketball-crazed among us have one eye permanently glued to our televisions, radios, or ESPN phone apps.  Yes, I'm talking about March Madness.
This past weekend completed what is commonly called "Championship Week," when teams compete for their own conference titles and the right to compete in the national tournament.  As a testament to what the "madness" in March Madness is really all about, 7 of the top 10 teams in the nation fell in their conference tournament games.
One of those teams was #1-ranked Kentucky.  And the team that felled them?  Our very own Vanderbilt Commodores.  Senior Jeffery Taylor scored 18 points and John Jenkins and Festus Ezeli added 17 each, as the 'Dores roared back from behind on a 16-2 run and snapped the Wildcats' epic 24-game winning streak.  When the confetti settled, our players were left holding the much-coveted Southeastern Conference trophy and our coach Kevin Stallings had his face buried in a towel, overcome with emotion.
To add a little context, Kentucky has won 28 SEC championships in the previous 79 years; Vanderbilt has won one.  In fact, our last appearance in the conference title game was in 1951, before Jeffery Taylor's father (a former Houston Rocket) was even born.
The game served as an enormous boost of confidence for a team that has hit its share of bumps over the course of the season and a much-deserved victory for the seven seniors on our roster.  More than 500 fans came to Memorial Gymnasium to celebrate the title and greet the team when they returned to Nashville from New Orleans last night.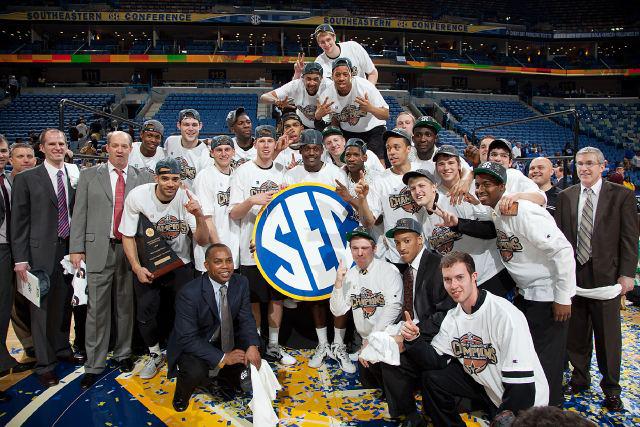 Before the celebration even ended, however, Coach Stallings and his staff were back in the office gathering tapes in preparation for the next step: the Big Dance.  Mere hours after the final buzzer sounded, the NCAA committee finalized the national tournament bracket and all conversation turned to next weekend's games.  The Commodores have earned a number 5 seed and will take on Harvard this Thursday at 3:40 PM Central Time.
If you want to get an idea of what big-time college sports are all about, if you are as nuts about March Madness as I am, or if you simply enjoy a good bout of drama and intensity, make sure to follow the Commodores in their upcoming journey.
GO 'DORES!