Guest Blog: Celebrating Writing at Vanderbilt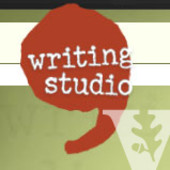 We take celebration very seriously at Vanderbilt. So seriously, in fact, that it's even part of our Community Creed. All the tenets of the Vanderbilt Community Creed help suffuse our campus with the spirit of learning and community that make this place special, and celebrating those virtues helps us remember our shared affection for Vanderbilt.
This idea of "celebration" manifests differently throughout campus. For example, we recently celebrated the victory of the VU men's basketball team over Kentucky to win the SEC championship. Another type of celebration that takes place on campus is the celebration of scholarship and learning, and the Vanderbilt Writing Studio's Undergraduate Writing Symposium is one venue where we celebrate the academic accomplishments of our undergraduate scholars.
The Vanderbilt Writing Studio "fosters conversation, collaboration, and critical reflection on writing. Open to all members of Vanderbilt's scholarly community, the Studio provides opportunities to receive constructive feedback from trained consultants and to develop strategies for all stages of the writing process." Essentially the Studio provides opportunities for students to seek help from peer writing consultants with their written work during any stage of the writing process. The Writing Studio further builds on its mission by providing workshops throughout the semester, "Dinner and a Draft" events where students connect with writers, and the Vanderbilt Undergraduate Writing Symposium where we celebrate accomplishments in undergraduate writing.
Students are nominated by their professors for exemplary writing accomplishments in the classroom across all disciplines. These paper submissions are then competitively judged by a team of faculty and Writing Studio staff and accepted for honorable presentation at the Writing Symposium in the spring semester, which takes place this year on March 27 from 2 – 7 p.m. at The Commons Center. Students, faculty, and staff are invited from all parts of campus to celebrate the achievements of Vanderbilt writers and scholars at the Symposium by listening to readings and participating in discussions. This year's topics will include the following areas:
Individual Voices Amidst Collective Identities
Changing One's Point of View: Journeys of Artistic Perception
Challenges of Acquiring Legitimacy and Legal Recognition
Mehrsprachigkeit/Multilingüisimo
Stories of Upheaval and Overcoming
Personal Perspectives from the American South
Shifting Cultures in the Ancient World
Varieties of Informational Transfer
Religious Discourse in Health and Politics
Grounding Philosophical Practice
Narratives of Worldly Redemption in Classic British Literature
The Writing Symposium's celebration is complete with refreshments, a reception at the Dean of The Commons Residence at The Martha Rivers Ingram Commons, and congratulatory remarks by Associate Provost for Undergraduate Education Cynthia J. Cyrus.
Students at Vanderbilt are, indeed, young scholars, and this celebration of that scholarship applied through the art of writing provides a venue for sharing the ideas, passions, and accomplishments of the Vanderbilt student body. The Undergraduate Writing Symposium is just one more way in which the Commodore community celebrates the accomplishments of its students.
By: Dustin Lynn, Admissions Counselor, Texas (San Antonio)