Undergraduates Help Make History Through Next Steps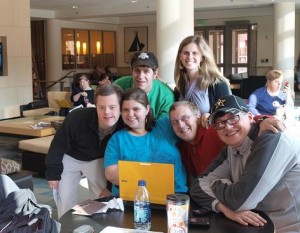 There are an extraordinary number of remarkable experiences that await students who attend Vanderbilt, certainly more than could be catalogued in one blog. Be they academic, social or professional, our students have access to and affect a world that thrives on vision, ingenuity, achievement, and inclusion, the proof of which can be seen in the storied lives of so many of our graduates.
This last piece — inclusion — was on full display on December 11, 2011, when six young adults with intellectual disabilities made history by graduating as the inaugural Next Steps class at Vanderbilt. Next Steps, which is facilitated by the Vanderbilt Kennedy Center, is the first post-secondary education program for individuals with disabilities in the state of Tennessee. More to the point, it's the first of its kind in the state to provide tangible support to the idea that "college is for everyone," addressing this vulnerable population's longstanding need for extended learning options after high school.
Through the two-year Next Steps certificate program, young adults between the ages of 18 and 26 attend one academic class per semester alongside current Vanderbilt students, in addition to three Next Steps courses that focus on Independent Living, Self-Awareness and Career Technology. They also participate in internships relevant to their career interests, the significance of which cannot be overstated: "Career," unfortunately, isn't a word that's historically had a positive connotation for this population, not for lack of want but of access. Students with intellectual disabilities often face bleak job prospects and high rates of poverty after high school, which in turn obstructs the ability to live the kinds of "normal" lives we too often take for granted. On these terms alone, the stakes for Next Steps couldn't be higher.
Perhaps the most extraordinary element of Next Steps, however, is referred to as the Circle of Support, a group of five students who volunteer to spend time every day with each Next Steps participant. Together, typically in one-on-one settings, the students eat lunch, exercise, do homework, attend sporting events and even write songs. The benefits of this integrated approach are far-reaching, as people with intellectual disabilities procure greater confidence in social settings while volunteers gain a greater sense of tolerance and understanding. In fact, reading through the various stories on this groundbreaking program, one gets the sense that, in some instances, it's Vanderbilt students and faculty who end up most changed by Next Steps. Volunteer efforts turn into friendships that can eventually turn into positive shifts in our society's understanding of the capabilities of this oft-misunderstood population. Imagine the possibilities for all involved.
This key social element takes center stage in a recent VUCast, "Next Steps: Redefining Team Effort," which can be streamed below. In it, current undergraduate volunteers (including star football player and Undergraduate Admissions student worker Chris Marve), Next Steps participants and program officers reflect on how the new endeavor has impacted them — often in unforeseen ways.
After watching the video, learn more about opportunities for undergraduates to serve in the Next Steps program and, similarly, in Best Buddies Vanderbilt. And click here for a full list of over 350 additional student organizations at Vanderbilt.