EDII Decisions Mailed and Total Applications Update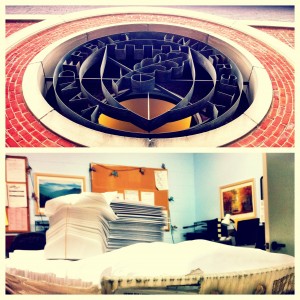 The energy in this office is palpable. Admissions officers, processing and operations staff – well, pretty much everyone come to think of it – is milling about with smiles so big they distract from tired eyes and fingers made sore from hand packing envelopes. What could possibly explain such behavior?
The mail truck just left with our offers of admission to the newest members of the Class of 2016. And we couldn't be more excited to welcome such a talented group of students to the Vanderbilt fold.
As we indicated when EDI decisions were mailed, this applicant pool has been the largest*, most academically qualified, geographically diverse and socially engaged in our institution's 139 year history. Keep in mind that Vanderbilt alums include Nobel Prize winners, Poet Laureates, acclaimed novelists, Congressmen, Senators, captains of industry, groundbreaking researchers, Grammy-winning musicians, and thought leaders in virtually every field of study. Yes – this is the company you're primed to keep.
How do we know future leaders when we see them? Just take a look below at the ways this group has set a new standard of achievement outside the classroom.  In fact, a full 99 percent of the admitted ED students received one or more significant honors or held leadership positions while in high school. More specifically:
A large portion held major leadership roles such as President, Vice President, Secretary, Treasurer or Founder of an organization. Many were also Athletic Team Captains or Co-Captains, or MVPs of their respective sports teams, which often placed in or won district, national or international-level championships.
A significant number have already made an impact in the fine arts by holding leading roles in theatre productions, achieving state level musical awards, or serving as Youth Symphony Concertmasters or Drum Majors.
Finally, an overwhelming number of our ED students achieved such high honors as Eagle Scout, Girl Scout Gold Award and AP Scholar, or have been inducted into honorary societies like the National Honor Society, National Beta Club or Key Club.
It's also worth looking at the numbers, of course. Following is your statistical first glimpse at the Class of 2016 (EDI and II combined):
Middle 50% SAT:  1380-1520
Middle 50% ACT:  31-33
Percent of students in the top ten percent of their graduating class:  90.05%**
Average rank in class:  4.31%**
Early Decision Admit Rate:  24.01%
To suggest that we're confident in the abilities of the incoming class to make a difference in the world would be the understatement of the year.
Regular Decision Application Update
As reported by the Vanderbilt News Service and the Nashville Post, applications for admission to Vanderbilt's Class of 2016 are pouring in at record numbers. The total figure stands at 28,252, and by the time we finish processing applications that number is projected to rise to 28,330 – a full 14 percent more than at the same time last year. Moreover, there's been a 32 percent increase in applications from international students and a significant jump from students living in the West and Southwest. Here's to a little more 'California cool' dotting Alumni lawn next semester.
Before signing off, we also want to mention that Early Decision II applicants living outside the United States will receive their decisions via email Tuesday, February 14. Moreover, in the unlikely event that you do not receive your decision by mail, you can receive your admissions decision via phone on or after Friday, February 17. During normal business hours, we will be glad to direct you to either your assigned admissions counselor (if available) or an "on-call" officer who can answer your questions.
From all of us at the Office of Undergraduate Admissions, thank you for your interest in Vanderbilt and congratulations to the newest members of the Class of 2016!
*Hence the "tired eyes" – and we're still in the midst of tackling a mountain of Regular Decision files!
**Data reported only for students enrolled in schools that provide exact rank-in-class information