Memorial Momentum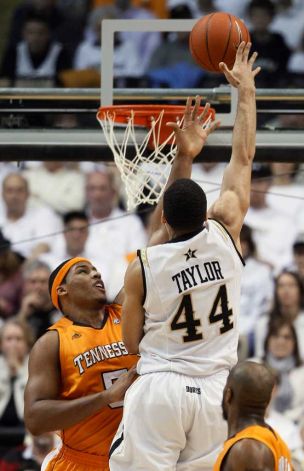 Hey there sports fans!  If you've been hanging around our blog since November, you will remember my post about our men's basketball team and their season opener over Oregon.  A LOT has happened since then, so I wanted to give you all a quick mid-season report.
Despite the win over the Ducks, the Commodores got off to a rocky start last fall.  A couple of sprained ligaments took out our star big man Festus Ezeli for more than a month, and in the downward momentum that followed we dropped tough losses to Cleveland State and Indiana State, plus two back-to-back overtime losses to Louisville and Xavier.
Fortunately for the Commodore nation, our guys do not stay down for long.  Ezeli returned to the lineup, and on December 29th, they pulled off a stunning 17-point victory at then #13 Marquette, bringing a new kind of momentum into the new year. They then went on an 8-game winning streak that was only just snapped by another overtime loss to Mississippi State at home this past Saturday.  The loss was our first in conference play (we are now 5-1 and ranked second in the SEC), and was by far one of the most exciting games I have seen at Memorial.  Despite the team's pothole-plagued start, our fans showed up in droves and filled the gym with an impressive amount of noise until the final buzzer sounded.
Tuesday night, our ability to bounce back after a tough loss was put to the test in one the most anticipated matchups of the year, as in-state rival Tennessee came to town.  The fans went into their traditional "white out" mode for the game, and student seats were filled well before tip-off.  Historically this game has brought out the best in both teams, producing highlight-worthy moments like this one and this one and this one.  (OK, that last one wasn't against Tennessee, but I still love watching it.)  Tuesday night's game did not disappoint, and the 'Dores pulled off a crushing 65-47 victory and a little more Memorial Magic.
The excitement doesn't stop there – on February 11th, #1 Kentucky will roll in, along with the ESPN crew for College GameDay, marking the first time the show has ever graced Memorial Gymnasium.  (If you remember, Game Day made its first football appearance on campus for the 2008 Auburn matchup.)  Oh, and in case you weren't counting, Selection Sunday 2012 is exactly 45 days away.
In other Vanderbilt sports news, our football team was recognized for their impressive season and post-game appearance at Saturday's game, and fans are looking forward to our signing day event on February 1st.  The women's basketball team currently boasts a 14-5 record and will be taking on #14 Georgia at home tonight.  If you are dying for some off-season baseball action from our reigning conference champion baseball team, take a minute to vote on this.
Go Dores!