Know Your City: 12South
One of the best parts of attending Vanderbilt has nothing to do with the University itself. And we're proud of that. Why? Because we recognize that Nashville, Tenn. – one of the great bastions of history and culture in the U.S. – offers our students an incredible number of opportunities to grow that simply can't be cultivated on a college campus. Nashville is so easy to fall in love with that many of our students stay put after graduation, a phenomenon that adds to the already strong presence of community in the city. Look around and you'll find Vanderbilt alums everywhere.
In late-November, we launched our "Know Your City" series with a dispatch on historic East Nashville, one of the oldest neighborhoods in metro Nashville. Today we'll explore 12South, which, for the more ambitious of you, could be considered within walking distance of Vanderbilt. Approximately three miles from campus, the distance might not sound ideal in the short yet cold winter months, but the remainder of the year brings with it the kind of temperate weather that makes it easy to stroll endlessly through Vanderbilt's surrounding neighborhoods.
As it concerns 12South, strolling is key since visitors experience the neighborhood by walking straight down its namesake, 12th Avenue South, to take everything in. This simple act – walking down a busy urban street – and, to a large extent, the revitalization in recent decades of the neighborhood itself, was made possible by a conscious effort on the city's part to improve safety and reduce traffic speeds. Since then, the area has become populated with some of the city's favorite restaurants, cafés and local businesses, all of which blend seamlessly into a backdrop of foursquare homes and bungalows that date back to at least the early 20th century.
12South could not be more accommodating to the tastes of a college student, either. So, in that spirit, let's look at how you might take advantage of the neighborhood on any given Saturday:
You'll want to start your day at the coffee shops Frothy Monkey or Portland Brew, where, among other things, the java itself is as good as or better than anything from Starbucks.  Frothy Monkey, in particular, takes the coffee shop experience one step further by offering a delicious spread of breakfast, lunch and snack options. Once caffeinated, exit right down 12th Avenue South to relax or play frisbee in Sevier Park. A wide-open urban green space, Sevier features walking trails, tennis and basketball courts, and often plays host to live music and a farmer's market.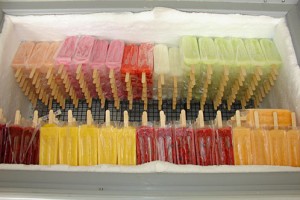 After working up a sweat in Sevier, it's now time to visit the nationally renowned Las Paletas, a gourmet popsicle shop that has become a rite of passage for every Nashville resident and a top stop for out of town visitors. From Avocado to Mexican Caramel and beyond, whether you're a foodie who enjoys the thrill of challenging your taste buds or someone who simply loves a cold treat, there are flavors here for everyone – none of which will disappoint.
With popsicle in hand, stroll back north to the boutiques MODA, Serendipity, Katy K's or, my personal favorite, Imogene + Willie. Residing in an old, converted gas station, I+W has in recent months received attention from The New York Times for its innovative yet timeless denim design, among other things, and hosts Supper and Song nights that feature up-and-coming local songwriters. The boutique is also a great place to spot celebrities, many of whom have supported the shop since its inception.
At this point, unless you need to get your hair cut, buy a guitar, do yoga, try on jewelry, smell the roses or, well, get a tattoo, it's probably time to start thinking about dinner. And you might need a while to decide where you're going to eat because everything tastes good in 12South. (On second thought, don't think too hard – campus is really close so you can try them all!) Whether you want to spend a lot or a little, Burger Up, Sloco, Fish & Co., Mafioza's Pizzeria, 12th South Taproom and Grill (also featuring live music) and Rumours are all worth repeat visits. Get used to it: I've lived here for a decade and still get excited at the prospect of dining on 12th South.
Come to think of it, that sentiment goes beyond dining. Agenda or no, strolling down 12th South (especially on a weekend) is one of my favorite things to do in Nashville. So, whether you're already a Commodore or are simply paying us a visit, take some time to explore all that this charming neighborhood has to offer. At just a few miles from campus, you have nothing to lose.