We're Going Bowling!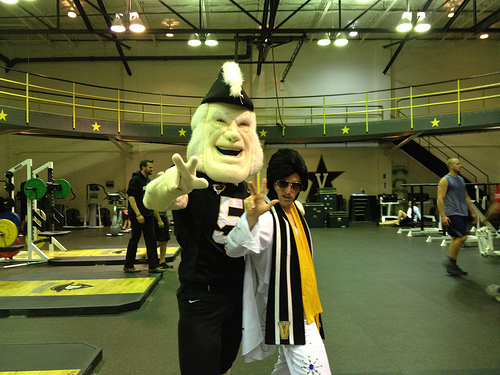 It was New Year's Eve, 2008.  I was sitting in the upper upper (upper) level of LP Field, home to the Tennessee Titans.  It was about 7 degrees Fahrenheit.  My friends, whom I had dragged to Nashville from my home in Kentucky over the holiday break, were shivering violently on the bleacher bench next to me, asking how long we had to stay before we could return to my warm dorm on campus.
But Vanderbilt was playing in the Music City Bowl, its first post-season appearance in over two decades.  There was 1:36 left on the clock, the Boston College Eagles had the ball, and we were up by 3.  And then… INTERCEPTION!
That game was by far one of the most memorable highlights of my college experience, made all the more significant by the fact that it was the last game I attended as a Vanderbilt student.  I got to go out with a victory – specifically, our first bowl game victory since 1955.
The graduating class of 2012 now has the chance to do the same.
In his first year as Vanderbilt's head football coach, James Franklin has propelled his team to six victories and another postseason appearance in one of the most thrilling seasons in our program's history.  More than holding their own in what is widely considered the most competitive football conference in the country, the Commodores saw tremendous victories over Ole Miss and Kentucky and lost to Georgia, Arkansas, Florida, and Tennessee by a combined total of only 19 points!
In the process, he and his phenomenal student athletes have transformed the culture on campus to one that expects, appreciates, and celebrates success on the football field.
On New Year's Eve 2011, Vanderbilt will be playing in the AutoZone Liberty Bowl in Memphis.  Coach Franklin has challenged the Commodore nation to sell out the game faster than it has ever sold out before and to join the team in celebration after the game.  If you cannot attend in person, tune in to CBS at 2:30 PM Central Time and cheer on the Commodores to another bowl victory!
If you're not pumped up enough after reading this post, check out this incredible inspirational video below.  GO DORES!