Women's Cross Country Team Takes Home First SEC Title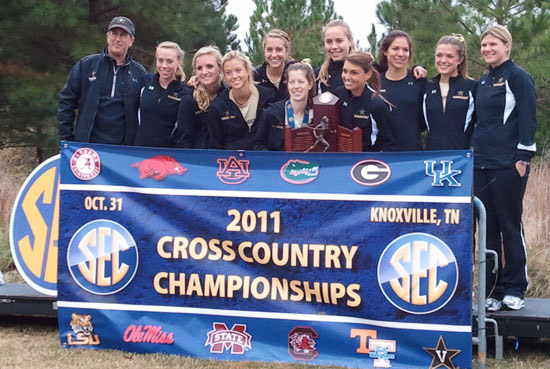 Without a doubt, the SEC is one of the most competitive conferences in college athletics. And the on-field battles between rival schools aren't just happening in football stadiums and basketball arenas – they're just as riveting in small towns like Maryville, Tenn., where Vanderbilt's women's cross country team won its first SEC title on Monday. Placing five runners in the top 10 and finishing 31 points better than second place Arkansas, the third-seeded 'Dores exceeded even head coach Steve Keith's expectations, "I was thinking five in the top 15, not five in the top nine." Vanderbilt students aren't known to do anything half-way.
It's an exciting time to be a Commodore fan. In June, our baseball team made its first appearance in the College World Series. Since September, our football team has put on a series of consistently memorable performances. And now, our ascendant women's cross country team has triumphed over several top programs to claim its first SEC title.
Our students tell us that one of the best aspects of Vanderbilt life is balance – balance between rigorous academic schedules and active social calendars, between exploring Nashville and rooting for some of the best athletic teams in the country.  If this SEC title is any indication, we may never run out of things to cheer about.
Photo Credit: Ashley Crosby