My Vandy Fanatic Weekend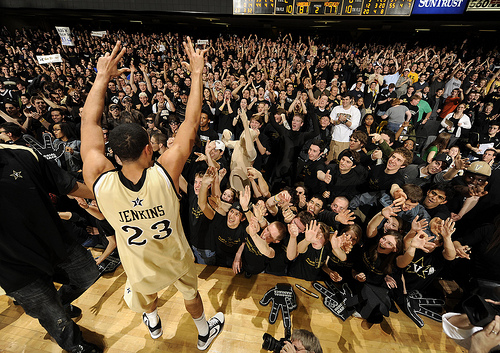 Let's get one thing straight: College sports are serious business.
Professional sports are fine if you're into big egos and middle school drama, or if you're from a city where there's absolutely nothing else going on, but if you're looking for real intensity, die-hard loyalty, and the exhilarating urgency of reaching as far and high as you can in the four short years you're given… there's nothing better than college.
This past weekend was the perfect example of how Vanderbilt athletics are not just a fun activity, but a way of life.  Friday night I attended our top 25 ranked basketball team's season opener with a few of my colleagues.  It was a little bittersweet – the first game I've attended since my graduation, it was also the first game I've ever attended in which I did not sit in the student section.  The atmosphere in Memorial, however, was still electric.
There's something that happens in our gymnasium – it might be the students in the front row beating on the raised gym floor, it might be the chants of "BLACK" and "GOLD" that reverberate when momentum is high, it might be the roar of the crowd when we sink our first three, continuing the longest  three-point streak in the nation.  No one knows where it comes from, but we know what it's called: Memorial Magic.
After we wiped the floor with the Oregon Ducks, I was up the next morning to hit the tailgate scene for our football game against Kentucky.  If you have never experienced an SEC football tailgate, I think it's safe to say you have not lived.  My seats for this game were remarkably better than my nosebleeds in Memorial, and I got to watch up close our total domination of a team that, five or six years ago, would have banked on us as an easy check in their W column.
If your parents or grandparents have told you anything about Vanderbilt athletics, you can take that knowledge and throw it out the window.  Historically advertised as the punching bag of the SEC, the Commodores have done a complete 180 in almost every field, stadium, and arena we have.  If you are a fan, there is no more exciting place to be in the world of college sports right now.  If you're not… get on board!