Meet Jessica Forinash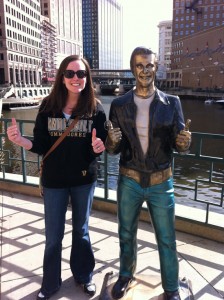 Indianola, Iowa is my hometown. My parents still live in the same house that I grew up in. Except for my sister, who came to Nashville after visiting me, my whole family still lives in Iowa.
I am the admissions counselor responsible for Arizona, Colorado, Michigan, Nevada, New Mexico, Utah, Wyoming, and Canada! Say that five times fast. Bet you can't, because I barely can.
In the office I am on the international team, the Black and Gold Days team, Campus Partnerships Committee, ROTC, CoRPs, and Vanderbilt and You programs. I also work with our practicum students, which is amusing since I was the first practicum student to work in the admissions office!
My favorite restaurants in Nashville are PM (since I am obsessed with sushi), Burger Up for an amazing burger, and Los Paletas for fabulous gourmet popsicles. Yep, that's what I said – popsicles. They will change your life.
The best place for shoes in town is Marti and Liz's in Cool Springs. They have designer shoes at a deep discount. I have to be careful to not spend my paycheck there every month. I think my husband regrets the fact that I found this place :) …
On Saturdays you're most likely to find me hanging out with my husband and 5lb Chihuahua, Mardi. During the fall we'll be watching Vanderbilt football. Go 'Dores!
For flights: I fly all over the country with a territory like this, so I never know what airline I'm flying until I check-in. I just go where my iPhone tells me to go.
My favorite spot on campus is the Peabody campus. I attended grad school at Peabody, so I have a soft spot in my heart for that side of campus.
At The Martha Rivers Ingram Commons, I am so jealous of the lounge chairs outside the Commons Center. Every time I pass them I want to hang out in the sunshine and relax for a while. First year students have it made.