10th Day Data – Presenting the Outstanding Class of 2015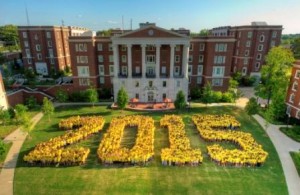 For the Vanderbilt class of 2015, The Martha Rivers Ingram Commons already feels like home. They have taken mid-terms and written papers, and they've cheered the Vanderbilt Football team to three victories at home. It has been only a few weeks since we welcomed 1,601 first-year students to campus, and we want you to know a little about this amazing group.
Colleges and universities typically do a statistical report about the incoming class after the 10th day of classes. This census is known as 10th day enrollment data and it presents the most accurate picture of the newest class of students at Vanderbilt University. We highlight these statistics on our online profile.
The class entering Vanderbilt this fall was selected among the largest, most academically prepared and diverse pool of applicants in Vanderbilt's history. Applications for fall 2011 freshman admission increased to 24,837, up 14% from the 21,811 applications the previous year. The admit rate this year was 16.4%, a significant drop from 17.9% the previous year.
Before I present more interesting statistics, I want to remind you that numbers never tell the whole story. You can use these kinds of data to get a frame of reference about various aspects of Vanderbilt and the admissions process, but these data should be used only as a reference point. Vanderbilt is a place with a rich history and culture and I would encourage you to visit campus if possible to meet students and faculty and to understand the Vanderbilt difference beyond the numbers.
More about the Vanderbilt class of 2015:
They were accomplished leaders in high school
1,503 were leaders in student government and service
537 were athletic team captains and co-captains
309 were leaders in the arts
25 were entrepreneurs who founded a business
35.1% of enrolled first-year students had a reported rank in class; of those with a reported rank in class, 89% were in the top 10% of their graduating class
The middle 50 percentile for SAT scores: 1380 – 1550
The middle 50 percentile for ACT scores: 31 – 34
58% attended public high schools, 35% attended private high schools, and 7% other
51% are female and 49% are male
29.2% self-reported a minority race/ethnicity
Where is the class of 2015 from?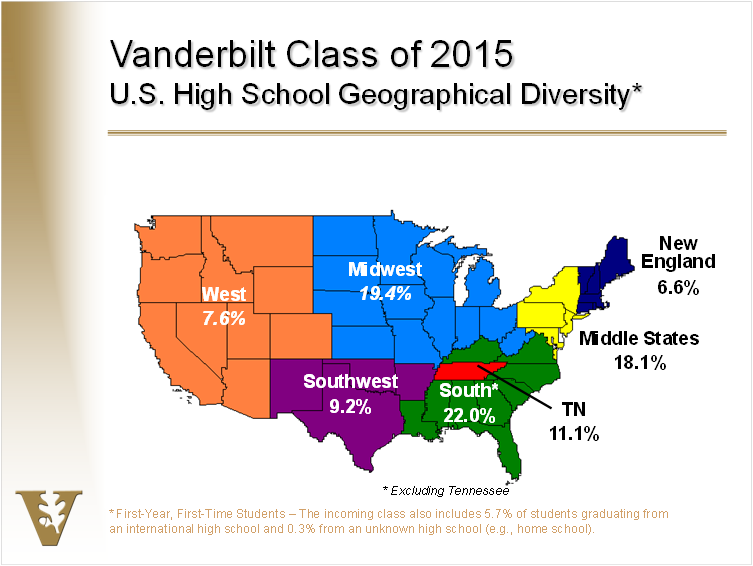 This regional map highlights the geographic diversity at Vanderbilt. The class of 2015 comes from all around the nation and the world. No single region claims the majority of students.
About two-thirds of the class of 2015 come from outside the Southeast. International students comprise 5.8% of the class. Each year, diversity at Vanderbilt increases across all measures, making our campus a richer and more dynamic place.
As an admissions counselor at Vanderbilt, I am proud to share these statistics with you. Our admissions office believes it is important to share this information with prospective students and families so that you can be informed as you make decisions throughout the college search and admissions process.
Let us know if you have questions.