You're Admitted! Now What?
First, take a breather and appreciate what you've accomplished.  Then, explore our Class of 2015 page.  This will answer most of your questions about the matriculation deposit, setting up your VUnetID, and requesting housing on campus.  Also, explore the Common Place Class of 2015 message board where you'll find helpful information regarding your life here as a first-year student.  Finally, if you send in a matriculation deposit you will shortly receive the Road to Vanderbilt brochure which goes into deep detail to prepare you for life as a Commodore.
Here are some additional answers to questions you may have:
I still haven't decided on Vanderbilt, are there visit opportunities?  I want to visit, but the only day I can come to campus is full, what now?  I've already done an information session and campus tour, are there other visit programs?  How do I meet with a professor?
If you have not visited campus previously, I highly suggest the basic information session and tour.  We conduct about 3 per day Monday through Friday and one on Saturday.  You need to register in advance as these fill up quickly!  If the information session is full you can still jump on the tour.  Simply arrive one hour after the information session started and notify the receptionist that you'd like to get in with a tour group.
We also have a 'Dore for a Day program.  This is a half-day experience where you will attend classes, eat lunch, and explore campus life with a current student.  This program is only for admitted and waitlisted seniors in the month of April.  You must register in advance.  This program ends on April 23 due to finals.
Each of the four schools will be hosting Admitted Student Visit Programs in the month of April to showcase the courses and professors available here at Vanderbilt.  Note that the design of these programs is to reach out to Regular Decision students who have not yet made up their mind.  Early Decision students and students who are certain they will attend Vanderbilt should select another visit option.
I highly encourage visiting seniors to sit in on a class this upcoming month and take a self-guided tour.  A casually structured day will give you the opportunity to have an authentic student-life experience.  Take in lunch at the Commons and discover off-campus life in Hillsboro Village.
Finally, if you wish to meet with a professor, discuss incoming AP credits, or plan out your academic possibilities, contact the department directly.   Use the "Contact Us" tab on each department's website to connect with an available and appropriate faculty member.
I didn't apply for need-based financial aid, but now I wish to do so, can I?  I'm confused about how my National Merit Scholarship will work with my financial aid package.  Is it possible to have our financial need reevaluated?
Any and all need-based or merit-based financial aid questions should go directly to the Office of Financial Aid and Undergraduate Scholarships.  You have a financial aid officer assigned to you based on the first letter of your last name:
The dates in the Open 'Dores packet and on the website are inconsistent for Family Weekend and Homecoming, what are the correct dates?
We apologize for the inconvenience.  All of the dates online are correct.  Family Weekend will be September 16-18 and Homecoming will be October 22.  The Vanderbilt Parents & Family Programs website can help you with additional information for these events.
I want to set up my VUnetID and email, but it's not working…
You cannot set up your VUnetID until you send in your matriculation deposit.  We also must process your deposit before you are able to set it up.  The processing does take time so please wait two weeks after mailing your deposit.  If you still have difficulties after waiting two weeks, please contact Vanderbilt ITS directly.
I feel as if we should be doing something.  What about registering for courses and getting housing assignments?
You can explore possible courses for Fall 2011 through Your Enrollment Services (YES).  An advisor will contact you in June via phone or email to discuss your options and help you make decisions.  All course registration will happen online before you arrive on campus.  Similarly, you will request housing online during the summer months.  Housing assignments do not happen until August, just before move-in.  All first-year students will receive housing in the Commons – there is no preferential or priority housing.
If you still have questions it is best to contact the department in concerns directly.  For example, the Office of Housing and Residential Education for living concerns or Vanderbilt ITS with technical issues.  Your admissions counselor is always here as a resource to you, but we will likely just connect you with the appropriate office.
Once again, congratulations!!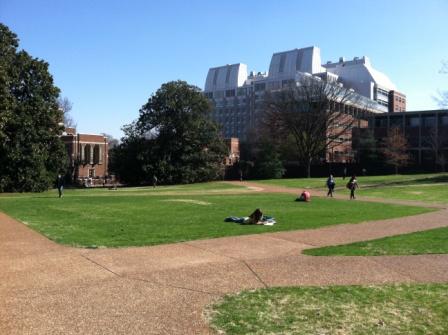 View across Library Lawn onto the Medical Research Building at Vanderbilt