Wacky Wednesday
College admissions involves serious topics.  We're talking about a lot of money and a huge investment of time put into an uncertain future.  However, I feel compelled to tell you that this point of your life shouldn't be all stress all the time. Live it up!  You only get to go through high school once, and while I am among the first to tell you I wouldn't accept a million dollars to go back and do it over again… it's still an experience worth savoring.
In the spirit of all things non-serious, here is my Wacky Wednesday post full of funny stories around the office, links to explore Nashville, and tips for reducing stress.
Funny stories:
I am willing to personally throw myself under the bus to lighten the mood up in here, so here I go…
Yesterday I was the officer presenting the group information session for OUA (we rotate between the 25 of us).  I always try to look particularly nice on days when I know I'm going to have many pairs of eyes on me alone for over an hour.  I wore gray slacks and a brand new black shirt; it was a simple outfit, but I felt like I was lookin' good.  At 10am I conducted the session and the hour went off without any kinks.  For lunch, I went out with my best friend to grab some food.  As we were standing in line to place our order he looked over me, raised his eyebrows, and said "isn't your shirt on backwards?".  Oh yes it was.  I'm sure those 76 individuals sitting in on my group yesterday thought I had lost my mind.
Good news:
Nature is blooming here in Nashville!  I cannot stand winter.  White Christmas is fine with me, but beyond that I want 80 degrees and sunny.  Music City had an especially hard winter this past year with far greater amounts of snow than it's accustomed to receiving.  Right around the middle of February I thought it would never end.  All of a sudden, though, winter dissipated and we're in spring!
Here's my proof….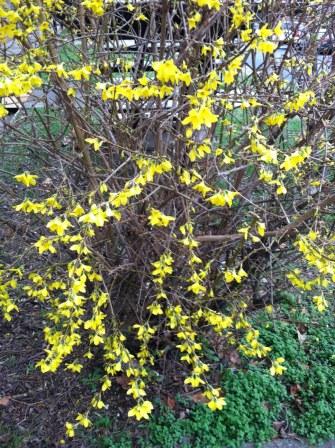 Taken outside of my Nashville home, 3.8.2011
Stress relief:
In the spirit of not reinventing the wheel, I urge you to read over some of my previous stress-related posts.
Explore Nashville:
As you wait for regular decision notifications or (if you're already admitted) for move-in day, here are some great Nashville-related sites to explore.
Photo courtesy of Eyad Alherz
* Find more great Vanderbilt photos (like the thumbnail in this post) through the Vanderbilt University flickr photostream