Preparing for Committee
Sorry for the blog silence over the last few days!  Things are hectic around here.  As I indicated in my post last week, we are preparing for committee (which begins March 5th).  Also, we just passed the priority deadline for transfer students.  PLUS, scholarship awards are about to go out the door :-)  Here is what all of that means:
Preparing for committee:
I'll describe committee prep and the committee process primarily from my personal experience; this process is occurring with all 25 admissions officers here at OUA.
Last week the muddy middle of my applications started to become clear to me.  Of all my files, there are some students presenting applications that need little discussion, they're just that great!  In coordination with my leadership team we decide we will admit these students without committee discussion.  Similarly, there are some files which for a combination of reasons will not be viable given our pool this year and we slate these applications for deny.  However, between these two clear ends is the muddy middle.  Each file in this middle pool is an application with strong reasons to admit and we know the student would be successful on campus, but we simply do not have enough space to admit every single file from the middle pool.  Thus, we go to committee.
Preparation for committee started last week.  I met one-on-one with my director on Friday and together we identified the applications from my geographic territories warranting committee discussion.  This process is effective because it gives me an opportunity to learn from someone who's looking at the larger picture, and it also gives me a chance to advocate for students and push for a further discussion on their file.   At the conclusion of our pre-committee meeting I know which applications my leadership team expects me to present at committee.
Today I pulled all of the files I will take and present in committee.  Each of these files already received a read.  I will read them again. In my first look at each file I wrote comments on the student as an individual and pulled out key points and/or themes of the application. This time I am reading each file with a better idea of our entire applicant pool this year.  I am looking to construct my elevator pitch for every file I take to committee.  The elevator pitch essentially asks: "if I rode an elevator with the Dean of Admissions and I only had that brief amount of time to tell him why this student should receive an admit letter from us, what would I say?"  My argument this time around should emphasize why this one student in the context of a 24,000+ applications.   Just so there's no confusion, I'll have more time than an elevator ride to advocate for students; however, I want to be clear and concise in my advocacy, thus the elevator pitch exercise.
Committee starts this Saturday (yes, we're working on the weekends this time of year) and will run about 10 days.  I'll give you more specifics on how committee works next week and I'll update you on my committee meeting after I present next week.
Priority Transfer Deadline:
March 1, 2011 was the deadline for transfer applications.  This was a priority deadline meaning we guarantee all applications a full review if submitted by that date.  We will still accept transfer applications throughout March, but as time stretches on we cannot guarantee late files will receive full consideration.  Two resources to check out: my blog for transfer students from January and our FAQs for transfer students.
We do not have special admissions counselors just for transfer students.  Rather, each admissions counselor reads transfer applications based on the high school the student attended.  For example, no matter where you currently live or attend college, if you went to high school in Indiana, I'm your gal.  Find your counselor on our main webpage.
Scholarship Awards:
Ingram Scholarship recipients learned of their award last week.  If you applied for the Cornelius Vanderbilt  and/or the Chancellor's Scholarship you'll receive notification via email of your award status by early next week.
All scholarship deadlines are behind us now and there will not be an opportunity to apply for additional scholarships.  These merit-based scholarships are only available to incoming freshmen students; we do not have merit-based scholarships for transfer students.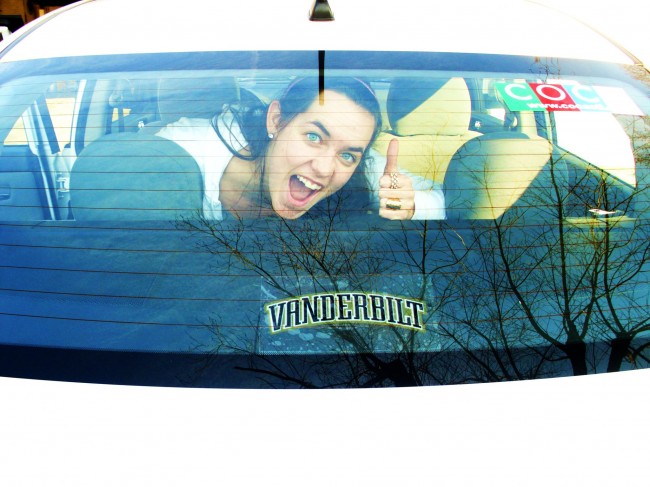 Photos courtesy of Helen Stanley and Sarah Walker; posted on FB Vanderbilt Class of 2015