Merit Scholarship Notification Begins Today
Good morning,
I just wanted to provide a brief update regarding the selection process for the Cornelius Vanderbilt and Chancellor's Scholarship awards.  Beginning today, we will notify recipients of the Cornelius Vanderbilt and Chancellor's Scholarship awards by both e-mail and letter. Applicants who were not selected for either program will only receive an e-mail notification. A total of 56 Chancellor's Scholarship and 143 Cornelius Vanderbilt Scholarship offers have been made.  Please note that decisions regarding Cornelius Vanderbilt recipients who have applied to the Blair School of Music are still being finalized. Recipients will be notified beginning later this week.
Competition for our merit scholarship programs continues to be intense.  Awards in one of our three signature programs (Cornelius Vanderbilt, Chancellor's and Ingram) are being made to fewer than 1% of our applicants for admission. Staff and faculty from the Vanderbilt community have spent countless hours reading and discussing scholarship applications and making difficult decisions regarding award recipients.
We continue to be humbled by the overwhelming response to our signature merit programs and we are amazed at the quality of the applicant pools.  Over 3,400 students applied for the Cornelius Vanderbilt program and nearly 600 applied for the Chancellor's Scholarship program. This is in addition to the 561 students who applied for the Ingram Scholarship program.
Thank you for your interest in Vanderbilt! Should you have any questions, feel free to e-mail our office.
Sincerely,
Brent Tener
Director of Undergraduate Scholarships
Vanderbilt University
Update 3/8/2011:
In our e-mail to students who were not awarded Chancellor's or CV, we indicated that the process of selecting recipients for other merit-based awards is ongoing. This is particularly true for the Blair School of Music and a number of their merit awards and the Curb Leadership Scholarship.
Update 3/21/2011:
We are in the process of sending e-mail notifications (with hard-copy letters) to the 11 students being offered Curb Scholarships. We will not be sending "no" notifications as we did with the Cornelius Vanderbilt, Ingram and Chancellor's Scholarships.  Any and all other scholarship notifications will be included with admit packets being mailed on Wednesday, March 23rd.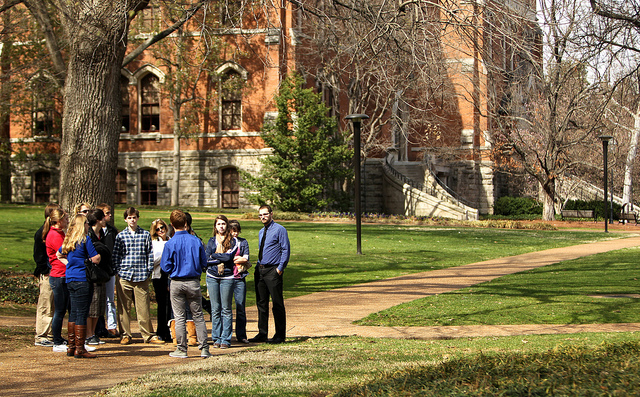 Seth Johnson '13 leads a tour through campus this past week