Behind the Scenes: Mailing Day 2011
Yesterday we officially mailed our Class of 2015 admission decisions!  Every year Mailing Day is a celebration for us here at OUA as it represents an entire year's worth of recruitment and evaluation.  Today the office is officially closed to the public as OUA staff members take a much needed breather and prepare for a new phase of the admissions cycle.  As you anxiously await decisions, I thought you might enjoy a behind-the-scenes peak at Mailing Day 2011.
First let me add a shout out. Admissions counselors receive the most recognition for the work that happens here at OUA because we're on the front lines with prospective students and families.  However, I also want to recognize the extraordinary amount of time and energy put in by other individuals including the Admissions Processing Center, OUA operational staff members, the Office of Financial Aid and Undergraduate Scholarships, the Vanderbilt Institutional Research Group, and the Registrar's Office.  Also a huge thank you to the many seasonal Admission Evaluators and Admission Analysts who help us put multiple pairs of eyes on 24,700+ applications.  Finally, we greatly appreciate our campus partners who continually support the Vanderbilt and OUA mission.
Without further ado… the Mailing Day festivities…
OUA Leadership Team gets the group pumped for Mailing Day 2011: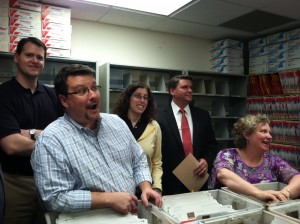 Amy Smith, Associate Director, seals the first admit packet of 2011:
It's a team effort to seal all of our admit packets: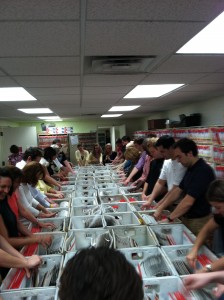 Susie Archer, Director of Strategic Process Enhancement, enjoys her first OUA Mailing Day: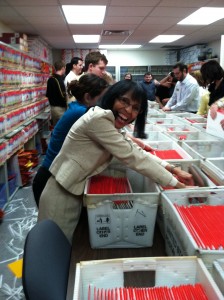 The USPS truck arrives to take the decisions away: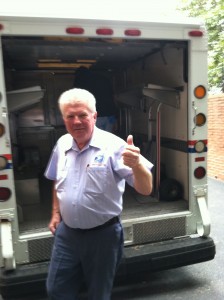 An assembly line forms through the building, handing off mail bins to the USPS:
Your humble blogger gives the letters one last thumbs up: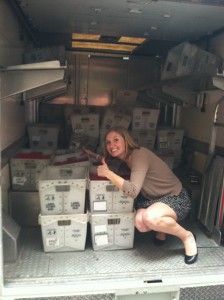 GO 'DORES!