Advance Info for VU Mailing Day
Today's blog is my attempt to answer your questions before you even ask! This past year, if I've learned nothing else, I've learned our readers care about the details.  So if you fall in that detail-oriented group, this post is for you.  I'll walk you through what our notification letters look like, when they mail, and some basic information for if you end up on the waitlist. Plus, I've injected some fun photos and a video for your Wednesday entertainment.
The Notification Letters
Repeatedly throughout our Early Decision rounds I received questions about what the letters look out, which service we mail with and in what order the letters go out.  I would like to take a moment before I answer these questions to remind you to not sweat the small stuff.  However, since there is clearly a strong interest in these topics, I shall proceed with the answers…
The "big envelope" goes out to all admitted students this round and also goes out to students admitted in our Early Decision rounds.  In the admit packet you will find: your admit letter (unless you went ED earlier this year), the Open 'Dores information book, The Investment of a Lifetime financial aid brochure, and your financial aid package (if you applied for need-based aid).  Additionally, each college will include visit opportunity information for Regular Decision students who have not yet decided Vanderbilt is their first choice.
Students offered a spot on our waitlist will receive a "small envelope".  If you are interested in remaining on our waitlist, though, you must submit a waitlist response form online.  Find more information on the waistlist below.  Those not offered a place in the class or on the waitlist will also receive a standard size envelope.
We mail all of our notification letters on the exact same day at the exact same time via USPS.  There were conspiracy theories in our earlier rounds about how perhaps we send admits first or we trickle letters out by school or by geography… nope, everything goes at the same moment.
Mailing Day Information
As I mentioned in my previous blog, we plan to mail on March 23rd in the afternoon.  Most areas of the country will receive information by Saturday of that week, but we know it takes longer in some regions.  International students will receive an email notifying you of your status on Friday, March 25th.
If you do not receive you letter you may call to receive your decision via phone on March 30th.  We will not release any information prior to that date.  We will never release decisions via email.  No exceptions.
Mailing day is a fun day for OUA as we celebrate an entire year's worth of work!  I'll post pictures from the craziness on the blog.
In case you can't wait… here are a few of the best from Mailing Day 2010: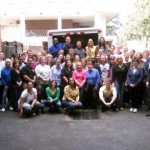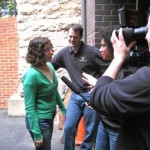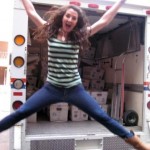 And a great VUcast from last year's event:

The Waitlist
Rumors abound regarding our waitlist!  I am here to give you the 411 on the situation at Vanderbilt.
First, we fully intend to use our waitlist. On average approximately 10 percent of our incoming class comes from the waitlist.  There are only 1,600 beds in the Commons and we under-admit on mailing day in order to use the waitlist slowly to fill all of the beds, but not overfill the space.
Our waitlist initially seems large; we will offer spaces to several thousand students.  However, do not feel intimidated by that wave of waitlist offers; last year only 35 percent (approximately) chose to wait it out with us.  That makes our actual waitlist much smaller.
There is no ranking system to our waitlist.  In fact, there's not a single waitlist.  Since we admit to four different colleges, there are waitlists for each college.  Moreover, many of our colleges admit to specific programs, such as Human & Organizational Development in Peabody.  Thus, no ranking system.  We wait to see who says yes to us on May 1st and then we evaluate our open spaces and pull from the waitlist with that in mind.
If you want to see how many students have stuck with us on the waitlist in the past, and how many students we admitted from the waitlist, check out our Common Data Set.  There's actually tons of admissions-related data available through the CDS.
Stay Tuned
I know you're anxious to receive an answer, and let me assure you, we're anxious to give you one!  I'll update throughout the week to keep you posted…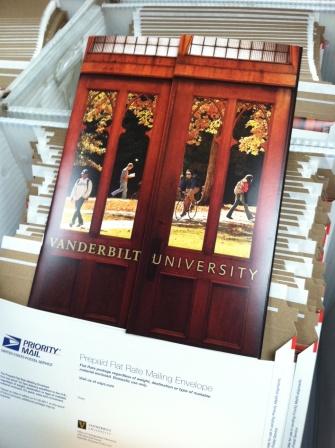 Open 'Dores, part of the admitted student packet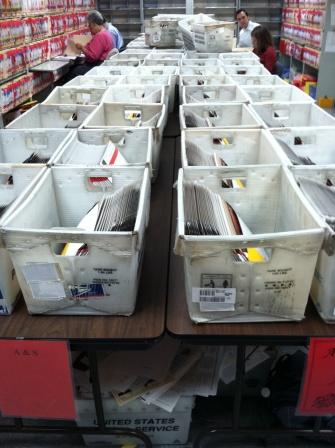 The OUA File Room, 3/15/2011