Snow Day
It's a snowy day here on campus!  Nashville accumulated 2-4" of snow overnight and the white blanket serves to highlight the fact that we truly get all four seasons here in Tennessee.  I know that we've been throwing a great deal of information at you lately and your head is probably spinning. My post last week was truly overwhelming with information – be sure to check it out because it may answer many of the questions you're harboring.  As we move into what I refer to as "the long wait", I'll transition my posts to include more student life information.  Below are some highlights for this week:
Regular decision students must request an alumni interview by January 15, 2011.  If you do not have the website link for the interview it is either because you did not complete your application or you just recently completed the application.  If you finished your application over seven days ago and still do not have the link for our interview website, contact Dustin Lynn (dustin.lynn@vanderbilt.edu).  Read my past blog for interview tips.
Vanderbilt starts spring semester classes on Wednesday!  Many of our students are already back on campus participating in formal Greek Life rush.  Approximately 42 percent of our student body joins a Greek organization during their undergraduate career.  Follow our Inside 'Dores blog as students chronicle life on campus.
In case you missed it: Vanderbilt has a new football coach!  James Franklin will lead the Commodores in the upcoming season.  Chancellor Zeppos said, "We win everywhere at Vanderbilt. We win athletically. We win academically. And there's no darn reason we can't win at football."  Learn about Coach Franklin and follow the latest football news on our athletics website.
The Vanderbilt community extends beyond the admissions website: The Common Place site is a great way to get an inside look at first-year student life.  We have an official Class of 2015 Facebook page.  Plus, VU has regular Twitter updates.
Questions?  You know where to find me.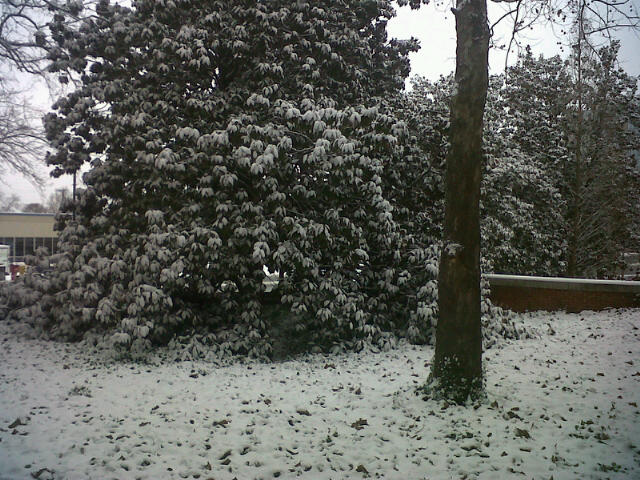 The view outside my office window this morning (1.10.2011)