Greek Life at Vanderbilt
Outside of admission-related questions, the two most frequent questions I receive are 1) how Southern is Vanderbilt? and 2) how Greek is Vanderbilt?  In past posts I addressed the Southern question (answer: as Southern as you want it to be).  The Greek life question is particularly timely as we just completed formal rush on Vanderbilt's campus this past month.  Here I want to cover a few points on Greek Life and and at the bottom of this post I refer you to great student blogs on the topic.
Although the exact number of students involved in Greek Life varies from year to year, it typically comprises about 40% of our undergraduate student body.  In the 2009-10 academic year there were 2,569 students involved with a Greek organization.
Vanderbilt is home to 20 fraternities and 16 sororities; these numbers include 8 of the Divine 9 NPHC fraternities/sororities.
The average GPA for IFC new members (typically freshmen men) last year was 3.177 compared with the average GPA of 3.164 for all freshmen men on campus.
The average GPA for Panhellenic new members (typically freshmen women) last year was 3.384 compared with the average GPA of 3.321 for all freshmen women on campus.
The Vanderbilt Greek community raised a total of $401,170 for philanthropic organizations last year!
Greek houses at Vanderbilt are non-residential.  While many organizations have physical houses located on campus, only six members may reside in the house.  If houses choose to have residential members these members are chosen by the individual organizations. The rest of the chapter members not living in the house will live in other university housing just as all members of the Vanderbilt community.
Vanderbilt Greek chapters conduct deferred rush – this means new members will not join until the spring semester of their freshmen year (or later if they so choose).
All of the above factoids can be found on the Office of Greek Life website or in the Greek Life Annual Report.    I also highly encourage interested parents to check out the Q & A section specific to you.
I love finding information for blog readers, but Greek life is a topic where the best information comes from students currently involved in an organization.  Last week two members of the Inside 'Dores team wrote about their rush week experiences: one about joining a chapter and one about not joining a chapter.  These are great reads and I encourage you to check them out!
Feel free to post comments for those Inside 'Dores bloggers or post questions for me below.   In the meantime, stay warm!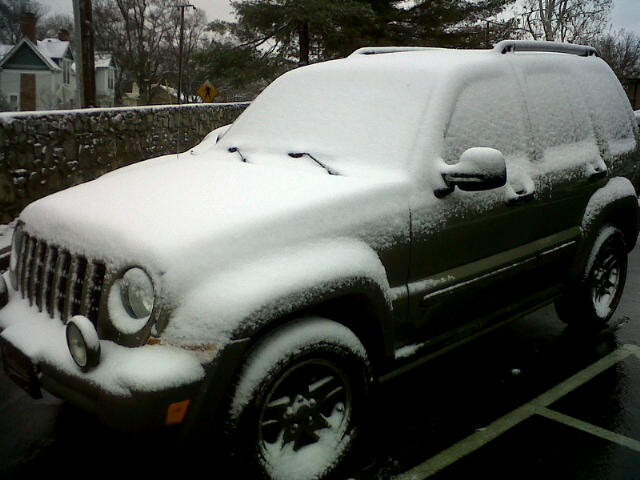 Snow continues to harass the city of Nashville this week!